Last night's narrow 2 percent loss by former state CFO Alex Sink to congressman-elect and lobbyist David Jolly was quite heartbreaking, but for all the campaign spin and pundit 2014 pearl clutching you might have read, there's one lesson we can take away as almost guaranteed. Is it that non-presidential turnout is fraught with perils, Alex Sink was a poor candidate, or that Obamacare was toxic? Nope, the answer is that Republican gerrymandering alone is the overwhelming reason Republicans won Tuesday. How can I be so sure of that? Here's how.
President Obama won Florida's 13th congressional district by a narrow 1.4 percent two party vote margin over Romney which was closer than his nearly 4 percent win nationwide. However Pinellas County has one dark blue stronghold of St. Petersburg that Republicans gerrymandered out of the district to protect it for their party. In 2010 Floridians voted to amend their state constitution so that districts would be drawn in a fair manner by making them "as equal in population as feasible" and use "city, county and geographical boundaries."
Just looking at the district you can see that those criteria were blatantly ignored and to correct that, I've restored the missing parts of St. Petersburg in light green and removed the excess parts of northern Pinellas County in pink. I cannot see any logical reason why this district should be drawn to carve out the heavily black, poor, and Democratic parts of the city, especially with it being on a peninsula!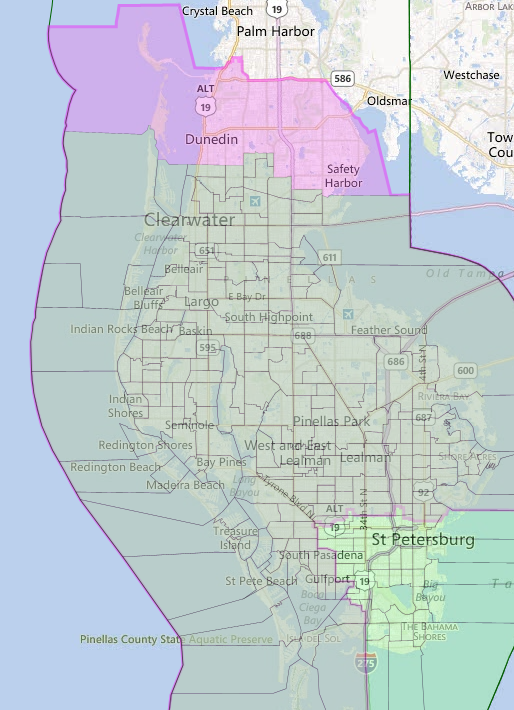 Had these district lines been in effect Obama would have carried the seat by
10.2 percent
. I would bet you a very hefty sum that the 8.8 percent change in margin would have been more than enough to carry Alex Sink to victory.
It is abhorrent that the Republican Party's positions of power rely so heavily on manipulating the rules and do so entirely here. Gerrymandering a house majority safe from public opinion allows them to exercise complete disregard for democracy. Fortunately, Democratic and good government groups have sued the Florida GOP and thus far the left-leaning state supreme court has been inclined to hear those challenges, making it possible their gerrymander might get overturned in time for 2016. But for now we're left with austerity-supporting social conservative lobbyist David Jolly representing a district he wouldn't have otherwise won and that should leave all of you disgusted.