New Jersey has one of the worst congressional maps for the Democratic party. I hope you can see in this diary why I tell it. The current balance of power in the congressional delegation from New Jersey is a lot different than the picture that gives a really Democratic map. The map of New Jersey would be the second most biased map after the map of Michigan, following my own numbers.
Not always the redistricting commissions work well in order to draw a fair and not biased map, and this in one example. The Redistricting system is working bad for the Democratic Party in New Jersey. It only do minor changes from the basis of the old Republican maps. and it lead to keep the advantage for the Republicans in the maps decade after decade.
As always I drawed these maps finding the limits for a Democratic map. I was finding as always the highest possible number of (safe) seats for the Democratic Party. But this time you will see nicer districts. And it is a very Democratic map.
NEW JERSEY OVERALL MAP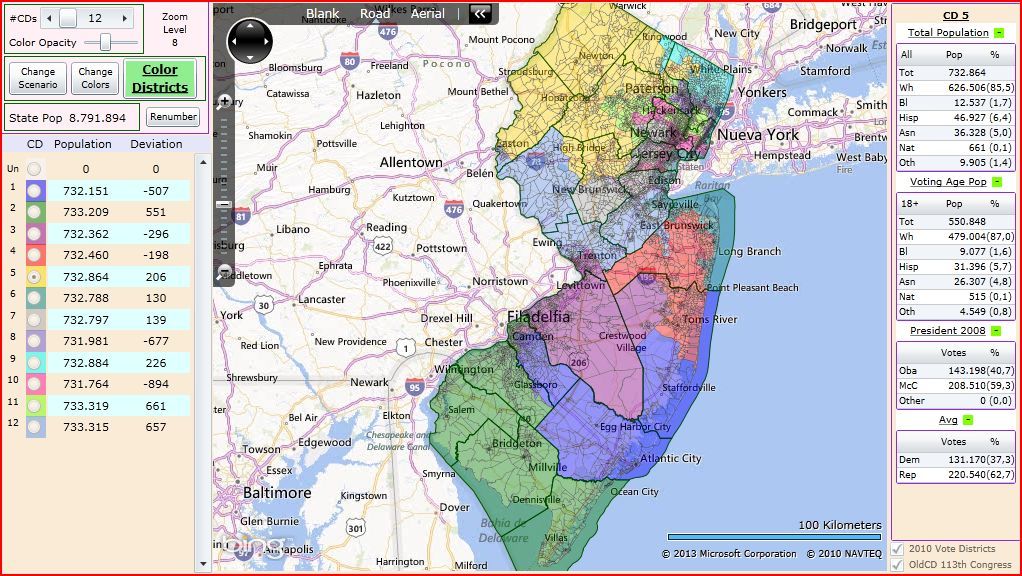 In this map there are 8 D+6 districts and 2 more D+5. To draw all them as D+6 would require a lot uglier map and I doubt if it would be possible. This map is very close to the limits but also respects lots of county, city and town limits in order to draw it nicer than other times. The especial nature of the VRA districts (NJ-08 and NJ-10) makes more difficult to draw a nice and enough Democratic NJ-11.
NJ-01: R Andrews (D) and F LoBiondo (R)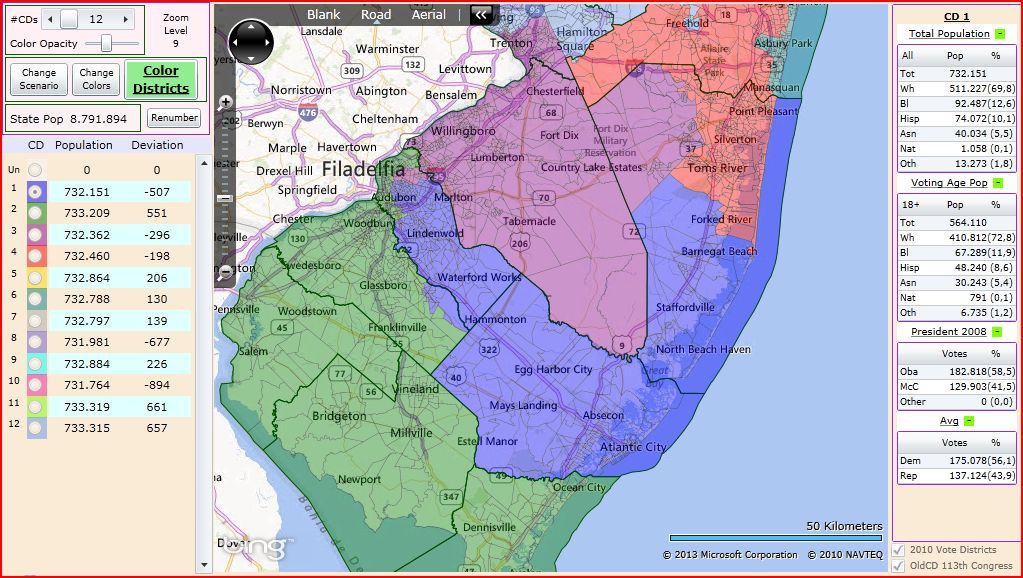 NJ-02: Open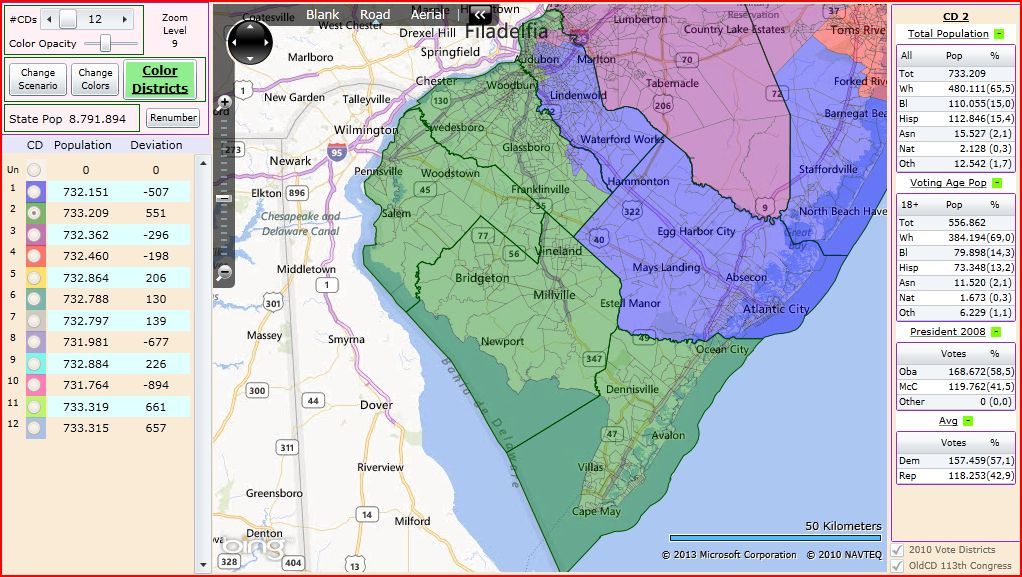 NJ-03: C Smith (R), J Runyan (R) and J Saxton (R)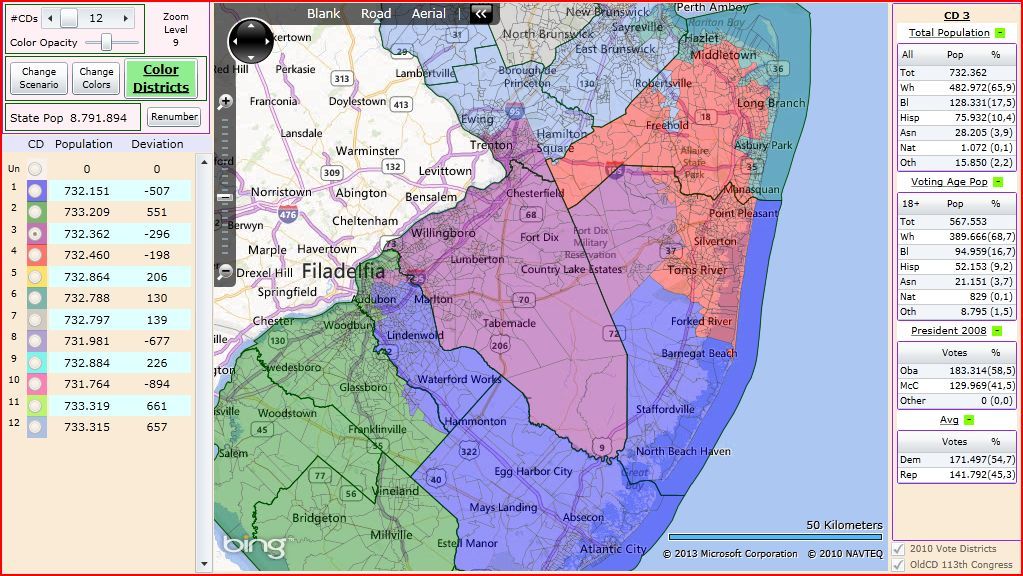 NJ-04: Open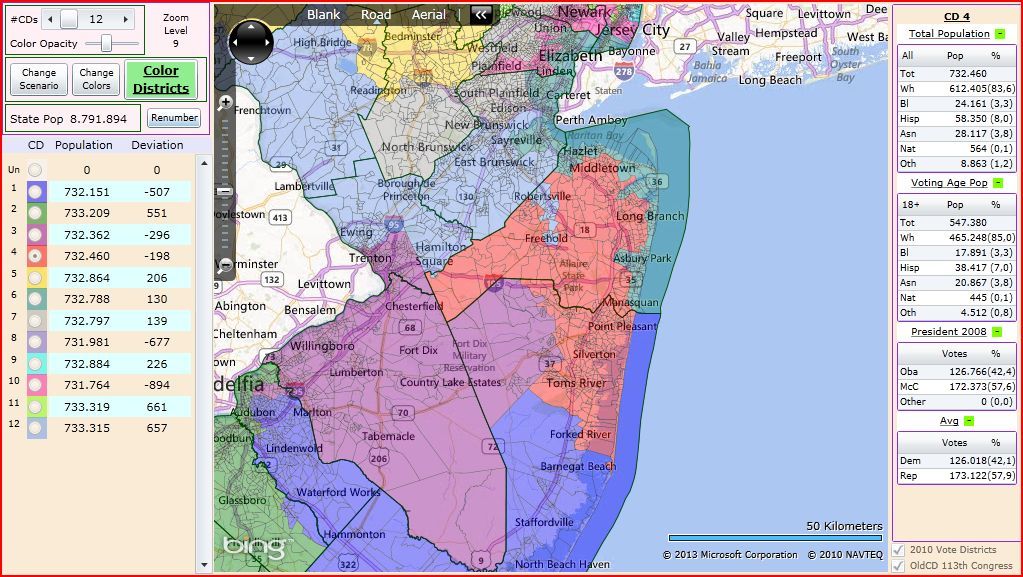 NJ-05: S Garrett (R), C Christie (R), C Todd Whitman (R), J Chiesa (R), D DiFrancesco (R), J Courter (R) M Ferguson (R), and M Pappas (R)
NJ-06: F Pallone (D) and K Guadagno (R)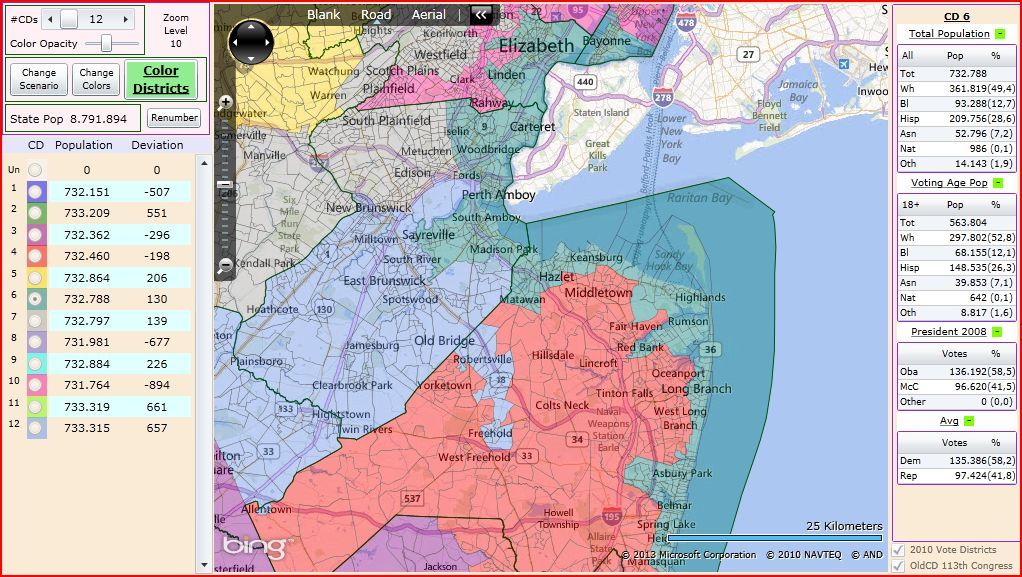 NJ-07: Open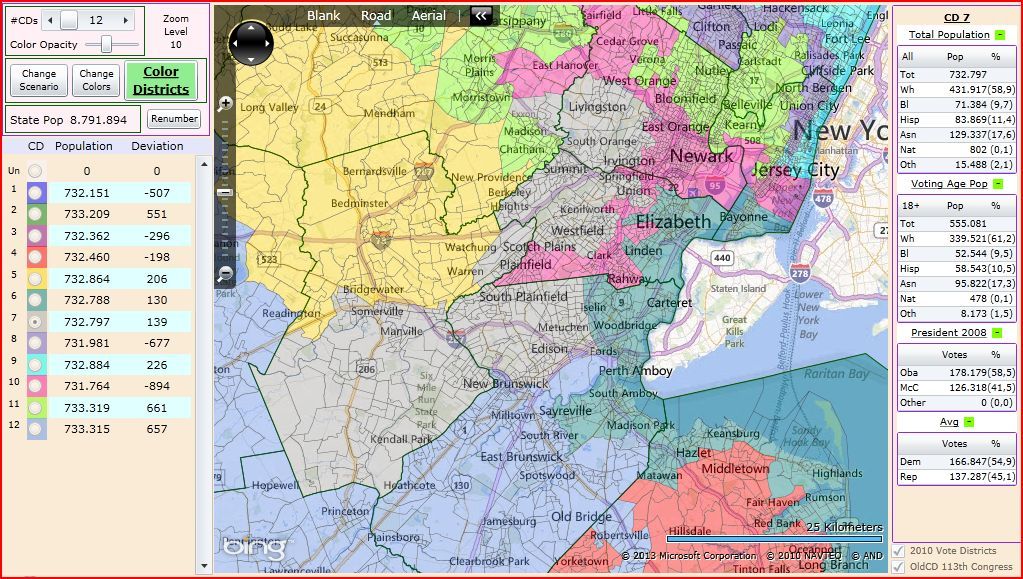 NJ-08: A Sires (D) and W Martini (R)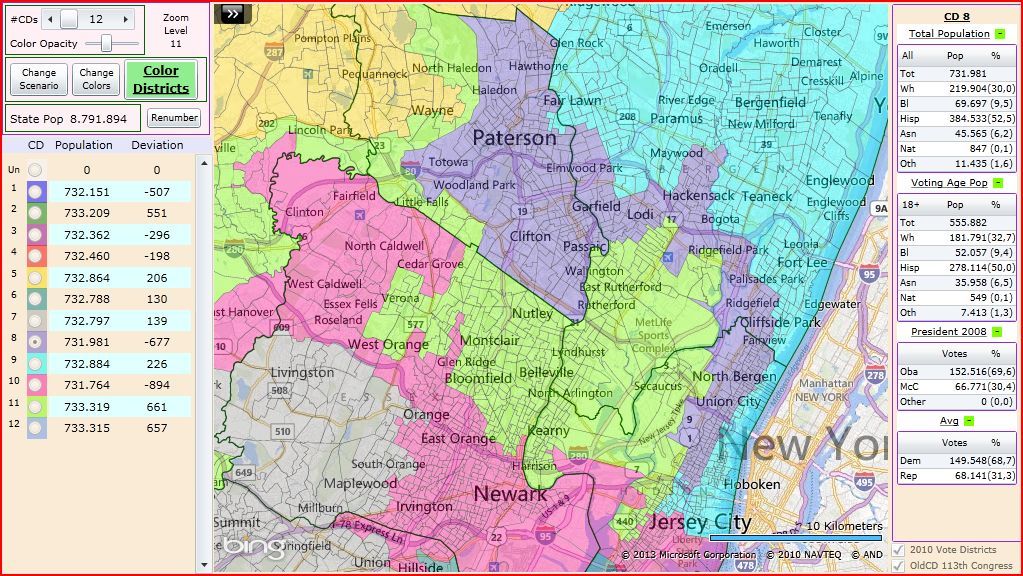 NJ-09: W Pascrell (D) and S Rothman (D)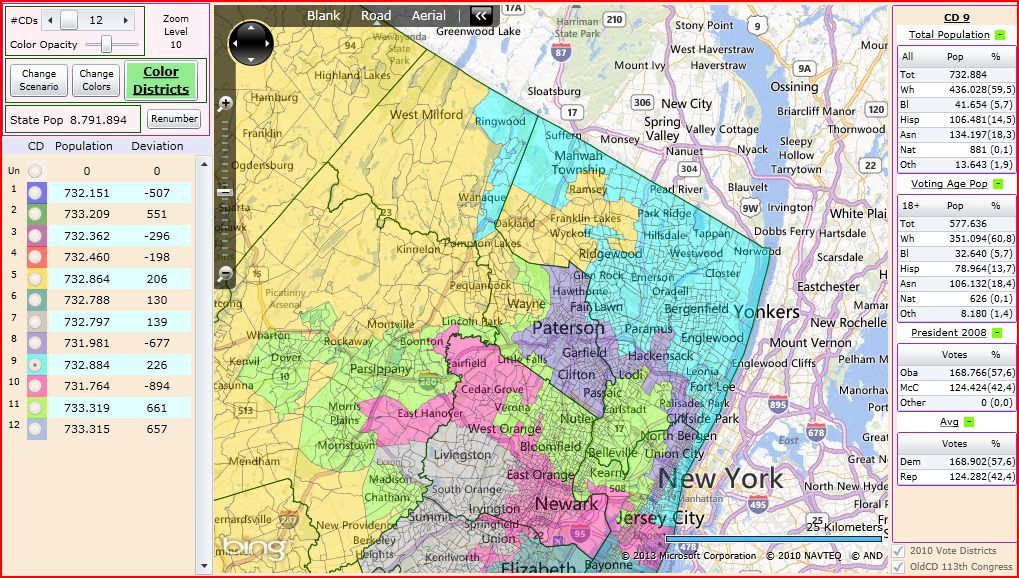 NJ-10: D Payne (D) and R Codey (D)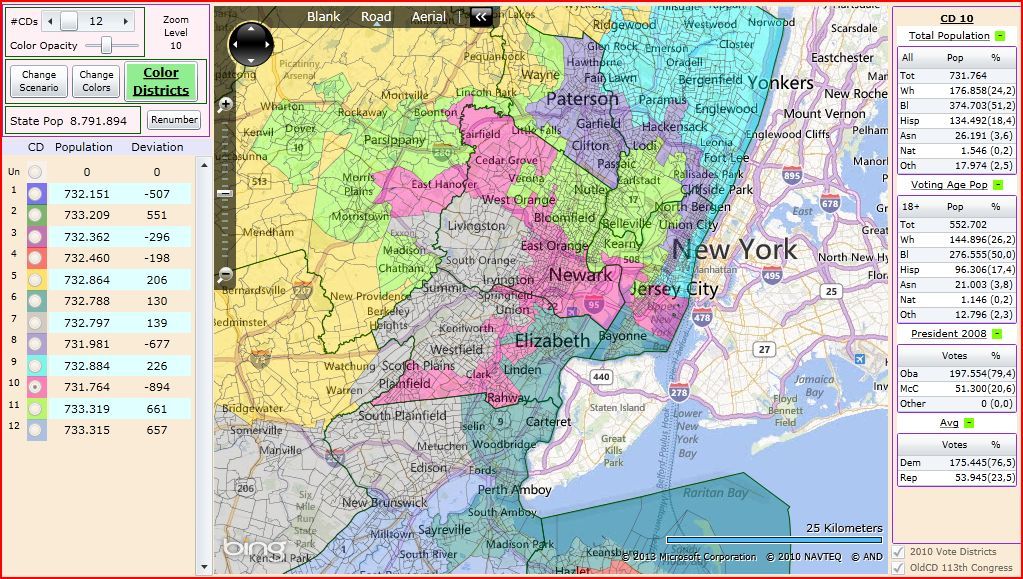 NJ-11: R Frelinghuysen (R) and W Bradley (D)
NJ-12: R Holt (D), L Lance (R) and R Zimmer (R)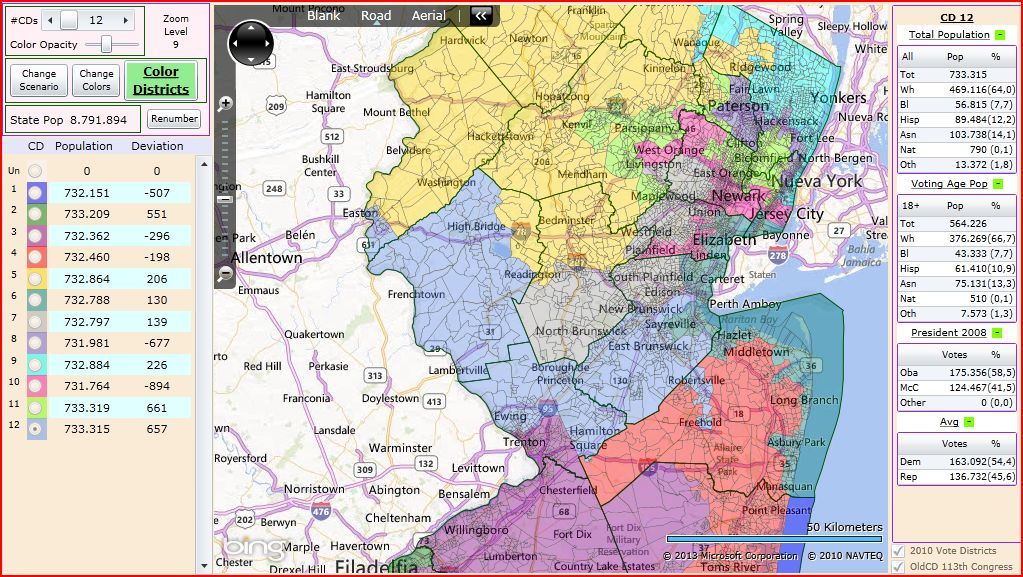 FINDING THE LIMITS OF A DEMOCRATIC MAP FOR THE US HOUSE
1.- New York 27-0 map (28-0 then still)
2.- Maryland 8-0 map
3.- California 53-0 map
4.- Illinios 18-0 map
5.- New Jersey 10-2 map
These 5 maps would mean 32 US House seats less for the Republicans. They can be happy with the Democratic party giving them advantage.
All the keys for a majority in the US House in the future are in the Democratic voters and in the Democratic Party hands.
Plus. A majority of D+5+ seats can be drawed if the Democratic voters and the Democratic party want it.
Would you like a US House with a majority of D+5+ seats? Would you like a US House with a D+5 median seat? I see a clear option of drawing it, even finding nice looking districts. It requires time and work, but I would be able to do it.
BIASS OF THE CURRENT CONGRESSIONAL MAPS
I designed time ago a formula for a measure of the biass of the congressional maps. A result of 0 mean no biass for the PVI of the districts from the state average PVI. A positive result means a pro-Republican biass in the current map. A negative result means a pro-Democratic biass in the current map. These are the results for every state:
+0.464: MI
+0.408: NJ
+0.360: OR
+0.340: WA
+0.322: IL
+0.272: CA
+0.250: MN
+0.250: PA
+0.248: NY
+0.233: NM
+0.225: WI
+0.164: VA
+0.150: ME
+0.138: MD
+0.131: OH
+0.100: NV
+0.086: CO
+0.040: CT
+0.011: MA
=0.000: HI
=0.000: VT
=0.000: RI
=0.000: DE
=0.000: NH
=0.000: IA
=0.000: MT
=0.000: ND
=0.000: SD
=0.000: AK
=0.000: KS
=0.000: WV
=0.000: AR
=0.000: ID
=0.000: OK
=0.000: UT
=0.000: WY
-0.031: NC
-0.033: NE
-0.041: FL
-0.050: MO
-0.143: SC
-0.143: AL
-0.150: KY
-0.167: LA
-0.222: IN
-0.222: TN
-0.250: MS
-0.286: GA
-0.300: AZ
-0.313: TX
As you can see there are more states with a pro-Republican biass and the pro-Republican biass is bigger in overall terms. Also for a good number of states only the VRA requirements are keeping a pro-Democratic biass in the maps.
The fact that a 33% of seats (4 of 12) would change of hands under this pro-Democratic map, proves that the current map is a very pro-Republican map. And even a 50% of the delegation of New Jersey in the US House would change of hands without the VRA requirements under a pro-Democratic map. The alone limit that helps to the Republicans keeping two districts in this map is the VRA. It is necessary to draw NJ-08 and NJ-10 as Democratic vote sinks in order to respect the VRA rules. The VRA work not always in favor of the Democratic party. Without the VRA this map finding the limits would be a clear and nice 12D-0R map.
Also the Republicans take benefits from the VRA requirements (in states like NJ, MI, PA,...). They should love a little more the law.