After last November's elections provided us with a trove of new elections data, I am finally able to revive my series on the political geography of the states that I first started last year. In it, I wanted to get a feel for how local Democrats perform in statewide or local elections and how that varies from Obama's 2012 performance. Given how counties are by far the easiest unit to find election data for in various states, I will be looking at how statewide candidates do on a state by state basis by county (and town in New England).
For every state, I've compiled all of the statewide, partisan D vs. R races since 2006 and averaged the results (excluding presidentials) to give you an idea of how a generic local Democrat will do on average, assuming a 50-50 race statewide so that even in heavily Democratic or Republican states you can see which areas are relatively more friendly to each party. Using this average Partisan Voter Index (PVI) where the state as a whole is Even, counties where the vote share is more Dem than the state are D+ and those that are more Republican are R+. Additionally, I've mapped out how Obama's 2012 map looks different than how an average Dem does who won or lost by the same margin. Finally, since the 2012 House of Representatives results are almost always presented by the district map, I've mapped out both the results themselves by county as well as by how much the House candidates ran ahead of or behind Obama in 2012.
All of the partisan percentages were calculated using two-party vote share only so as to have the most direct comparison between races. All of the data was taken directly from the relevant state's board of elections or equivalent office. You can find it for download by state here. (Please let me know if you find any errors)
Using the Census Bureau's division of the United States into four general regions, Part 1 covers the West, Part 2 the Midwest, Part 3 the Northeast, and Part 4 the South. Part 5 will look at the US as a whole, specifically the US House of Representatives election from 2012.
Part 3 includes: Connecticut, Delaware, Maine, Maryland, Massachusetts, New Hampshire, New Jersey, New York, Pennsylvania, Rhode Island, and Vermont (Delaware and Maryland being more northern than southern nowadays).
So follow me over the fold for the partisan average charts, a little analysis, and a whole lot of maps.
Connecticut
Town-level charts here
First up is Connecticut, which like the other New England states sees its town level governments being much more relevant than the county level. As such, I've given you a map of both which provides an even more interesting look.
In terms of the partisan average, there doesn't seem to be too much variance among the counties, but the picture becomes a lot clearer at the town level. Democrats do best in the minority heavy cities such as Hartford and New Haven and the urban areas in general. Republicans do best in the wealthy suburbs of western Connecticut and the smaller towns. The state's swing region is generally the east of the state.
Obama did fairly well in Connecticut in both 2008 and 2012 and part of this was his appeal to suburbanites. As such, he overperforms in the wealthy NYC suburbs of the west of the state as well as minority heavy cities such as Hartford. He underperforms by a modest to fairly significant amount in the smaller towns of central and eastern Connecticut.
Looking at the house maps, we can see some pretty significant ticket splitting. All four Dem incumbents ran ahead of Obama and some did so by a large margin. On the other hand, our nominee for the open seat, Elizabeth Esty, ran behind the president though she still won. In particular you can see her Republican opponent's base in northwestern Connecticut where he did much better than Romney.
Delaware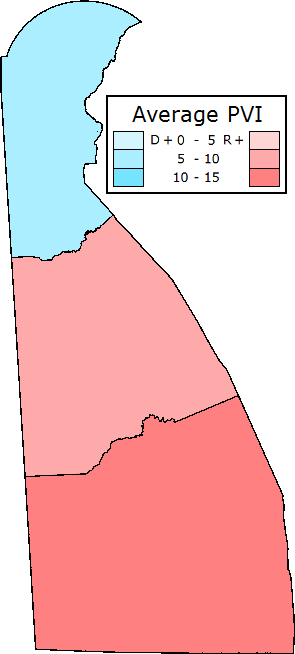 There isn't all that much to talk about with Delaware given its few counties. Democrats do best in the most populous and urban one, New Castle in the north, while doing worse in the more rural southern counties.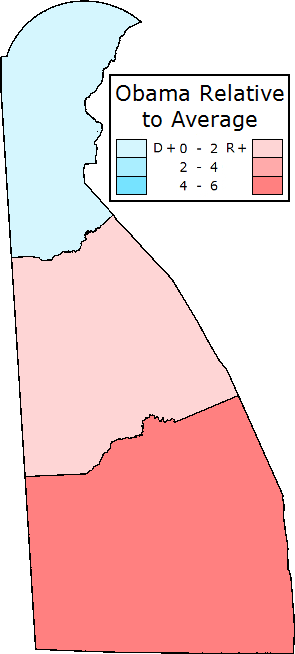 Obama performs relatively in line with local dems in New Castle and Kent, but actually underperforms fairly moderately further south in Sussex. This is fairly typical for the more rural counties that make of the Delmarva Peninsula.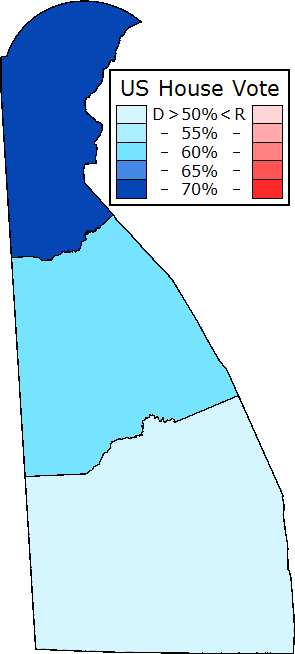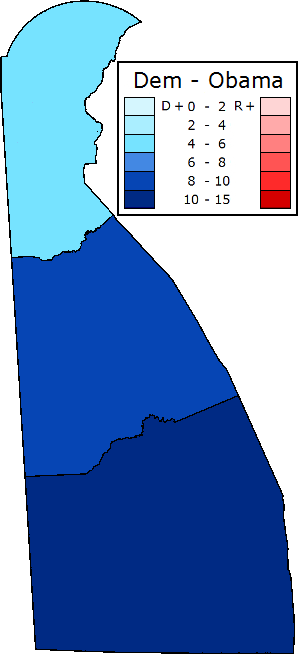 Looking at the house map gives us confirmation of Obama's divergence from the norm. John Carney ran ahead of Obama by a fairly healthy margin and did so by a greater margin in the southern counties, even going so far as to win Sussex.
Maine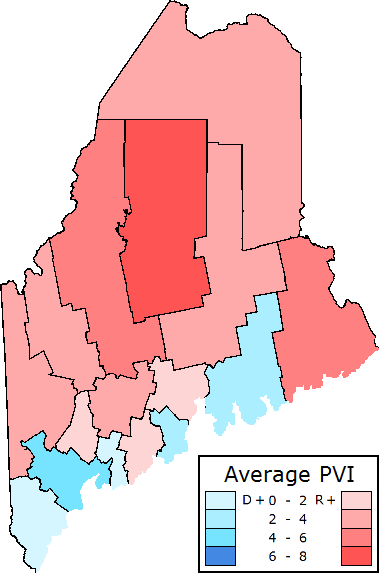 Unfortunately DRA doesn't label Maine's towns by voting district and since there are 433 of them I didn't want to have to color them all manually, so we're left with just the counties for now.
Anyway, you can see that Maine doesn't have a huge divergence in political preference by county, but in general Dems do best in the more urban counties along the coast, home to cities like Portland. Republicans do best in the heavily rural counties in the north of the state.
Unsurprisingly, Obama underperforms somewhat in the more rural and sparsely populated counties while performing better in the ones in the west of the state that overlap with the New Hampshire media market and thus would have been exposed to saturation presidential campaigning.
In terms of the house maps, both Dem incumbents ran ahead of Obama and performed very well in general. Mike Michaud lost only one county in the far east of the state and that was most likely attributable to it being his opponent's base and one of the most Republican relative to the state. He still ran moderately ahead of Obama in the rest of the district.
Maryland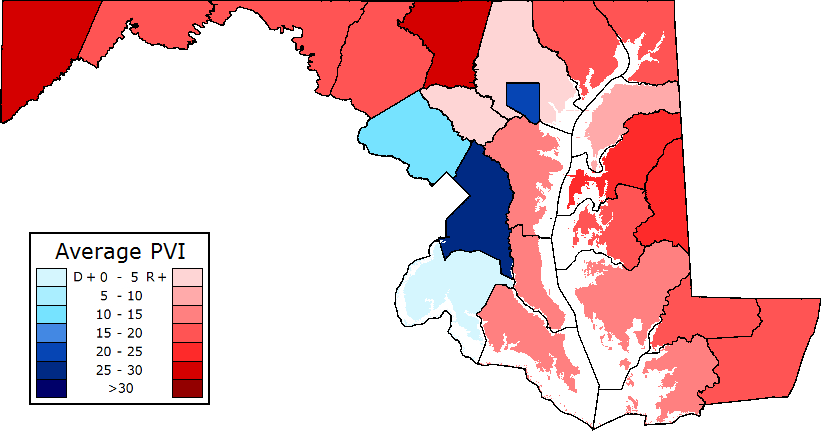 Maryland is a state that is now solidly Democratic and only becoming more so thanks to its growing minority population and the Democratic trend of the DC suburbs. It should come as no surprise that Democrats do best in the majority minority counties containing suburban DC and majority black cities like Baltimore. Republicans do best in the much whiter and rural eastern western panhandle and the counties surrounding the Chesapeake Bay.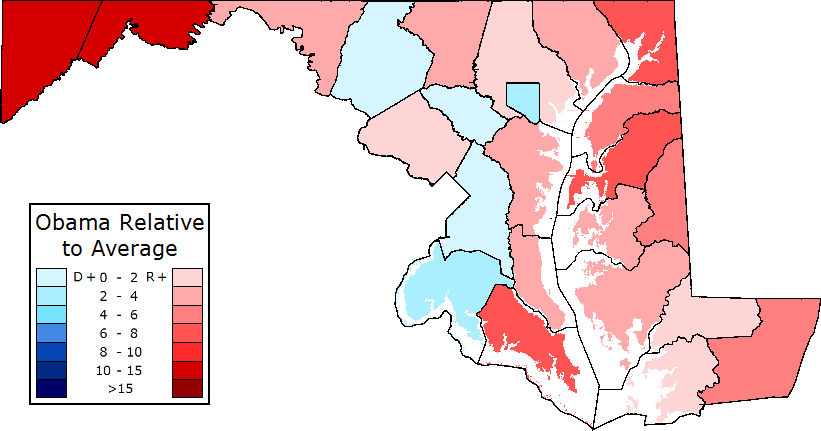 Thanks to his appeal to minorities and suburbanites, Obama overperforms relative to the average in the heavily populated DC suburbs and Baltimore and its more minority heavy western suburbs, as well as blue trending Frederick County. He underperforms the most in the Appalachian panhandle, as well as the Chesapeake Bay counties and the whiter eastern suburbs of Baltimore.
Thanks to the Sarbanesmander (or in spite of it) Democrats cleaned up in Maryland's house elections, winning 7 of the 8 seats. Dems produced huge margins in the DC suburbs and Baltimore, while even winning some Romney counties along the western Chesapeake shore. All of the Dem incumbents outran Obama and did so by the most in the panhandle and along the western shore of the bay. Thanks to our nominee dropping out after actually committing voter fraud but remaining on the ballot, 1st district Rep. Andy Harris actually ran ahead of Romney in terms of vote share in the eastern shore.
Massachusetts
Town-level charts here
Moving on to Massachusetts, we find a state that is similarly blue. Democrats dominate the populous Boston metro area of the city proper as well as some of its closer suburbs. They also do well in western Massachusetts, cities such as Springfield and Worcester, Fall River, and Salem. Republicans do best in central Massachusetts outside of Worcester, the Merrimack Valley in the northeast outside of places like Lowell, and the less urban areas of southeastern Massachusetts along the Atlantic shore.
Despite it being one of Romney's many home states, Obama still saw a dominating margin in Massachusetts. He generally performed in line with the average, but slightly overperformed in the states more urban regions as well as western Massachusetts. He underperformed slightly in the mostly white and somewhat working class areas south and east of Boston.
The house map is somewhat distorted by the fact that Dems in the 1st and 2nd district in western Massachusetts and 7th district in Boston were unopposed, but you still get a
very
clear picture of incumbency. Seven of our Dem incumbents ran significantly ahead of Obama and carried nearly every town in their districts. Joe Kennedy in the open 4th district ran slightly ahead of Obama, but still carried nearly every town. Then there's John Tierney whose 6th district you can practically see the outline of as he underperformed Obama fairly significantly in essentially every part of his district, but it was not enough to put challenger Richard Tisei over the top.
New Hampshire
Town-level charts here
Continuing with New England we come to New Hampshire. This state is without a doubt the most friendly to Republicans and conservatives in the region, but it has been trending towards Democrats for a while now. Dems do best in the more urban towns such as Concord and Portsmouth, as well as the rural western towns in close proximity to much more liberal Vermont. Republicans do best in the rural Merrimack Valley which sees a fairly significant amount of people living there to escape paying Massachusetts taxes while they work in Boston.
New Hapmshire was the sole state in the region to be one of the key battlegrounds in last year's presidential election and as such it isn't that surprising to see Obama perform relatively in line with the state's average. In general though, he overperformed somewhat in the north and west of the state while underperforming in the rural parts of the center of New Hampshire.
Looking at the house map we can see how Democrats performed best in the urban bases of the state while Republicans generally did better in the rural areas of the Merrimack Valley. Surprising given her past history of being a somewhat weak campaigner, Carol Shea-Porter actually outran Obama in nearly every part of her district while Annie Kuster lagged behind him in nearly all of hers. Still, given how her opponent Charlie Bass was viewed as being a fair amount more moderate than Shea-Porter's opponent Frank Guinta, this starts to make sense.
New Jersey
New Jersey is a fairly deep blue state with Republicans struggling to win statewide election aside from Chris Christie's upcoming reelection campaign. Democrats do best among the heavily minority urban voters in places such as Newark, Jersey City, Trenton, and Camden, as well as the states more working class areas. Republicans do best in the much more rural counties of northwestern New Jersey, the wealthier suburbs/exurbs of NYC, and along the Jersey Shore in the east of the state.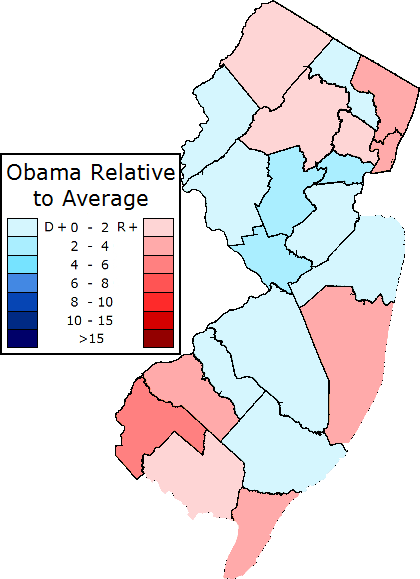 Partly thanks to the widespread approval of his handling of superstorm Sandy and his appeal among suburban and minority voters, Obama performed somewhat better than the average New Jersey democrat, particularly along the state's suburban corridor between Philadelphia and NYC. He also holds up well in heavily minority areas such as Newark and Jersey City, but nearly everywhere else in northeastern New Jersey he underperforms and in some places it's rather significant. He also underperforms almong parts of the Jersey Shore and southwestern New Jersey.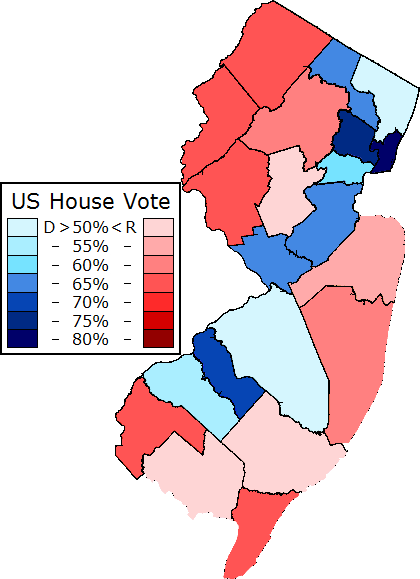 New Jersey saw a fairly clear pattern of its incumbents outrunning the presidential ticket, but with Republicans outrunning it by more than the Democrats. Still, you can see Dems winning the span of counties between NYC and Philadelphia while Republicans win the northwest,and the eastern and southern shores.
New York
The most populous state in the region is also one of its most Democratic. Democrats dominate in the state, holding every statewide office and even winning back nominal control of the state senate despite it being horrendously gerrymandered. Unfortunately though, Democrats are heavily concentrated in the state in NYC proper, especially the less white boroughs such as the Bronx and Brooklyn. Republicans generally do best in much more rural upstate New York, particularly in the west, but also do fairly respectably in the whiter and wealthier NYC suburbs in Long Island as well as Staten Island.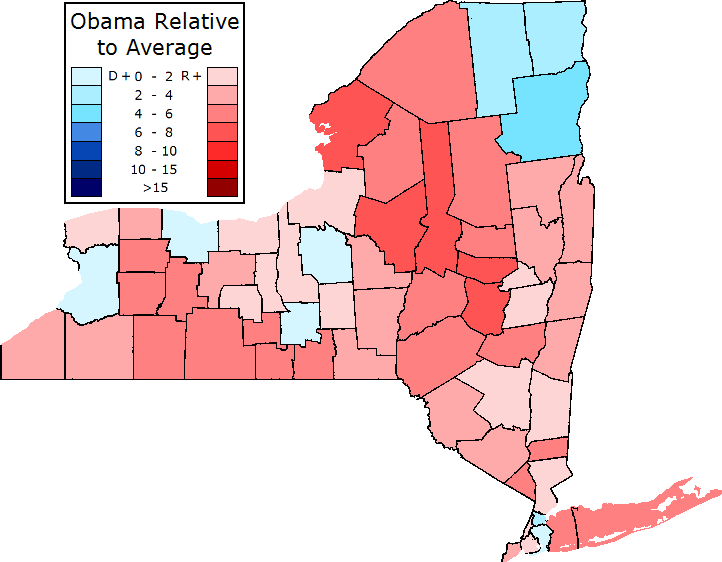 Obama underperforms fairly noticeably in Long Island and Staten island, as well as the much more rural parts of western and upstate New York. Additionally, he underperforms among the heavily Orthodox Jewish areas of south Brooklyn. He overperforms in those more minority heavy areas of the city in the Bronx or northeast Brooklyn, as well as the more traditionally Republican areas in upstate New York such as Buffalo and Rochester and the Blue trending counties bordering Vermont.
Dems did very well in the house elections in New York, winning 22 seats while being competitive in 4 more. They saw commanding margins in all of NYC aside from Staten Island, did very well in Long Island and the lower Hudson Valley, the Albany area, as well as the cities of western New York. Republicans only did very well in the more rural regions upstate. Compared to the presidential ticket, we get a strong indication of the effect of candidates and incumbency. Dem incumbents in general ran a good deal ahead of Obama while Republican incumbents ran ahead of Romney. In particular you can see where Kathy Hochul ran significantly ahead of Obama to nearly win her heavily conservative western NY district and where 'moderate' Republican Richard Hanna ran significantly ahead of Romney in central New York.
Pennsylvania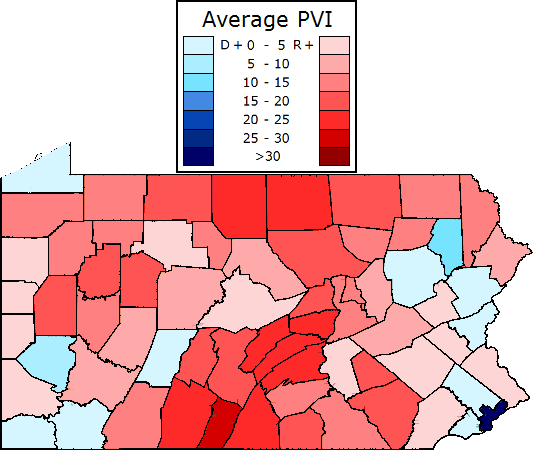 Pennsylvania has been for a while now undergoing a political transition while still remaining slightly Dem leaning. Democrats utterly dominate in Philadelphia and Pittsburgh while Republicans dominate in the center of the state and the populous and growing Pennsylvania Dutch country. Once a Republican stronghold, the populous Philadelphia suburbs have been trending Democratic while the once Democratic stronghold of western Pennsylvania outside of Pittsburgh has been trending Republican as has much of central Appalachia.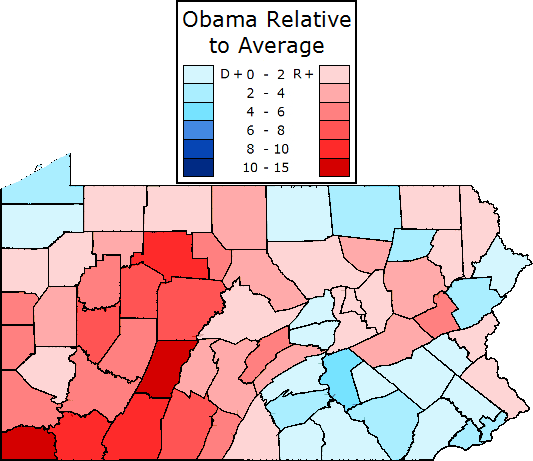 These trends are immediately evident when one looks at Obama compared to the average. He performs much better in urban and minority heavy Philadelphia and the suburbs surrounding it as well as parts of Pittsburgh proper. On the other hand, he underperforms massively in Appalachian western and central Pennsylvania which has a long history of elected socially conservative labor Democrats.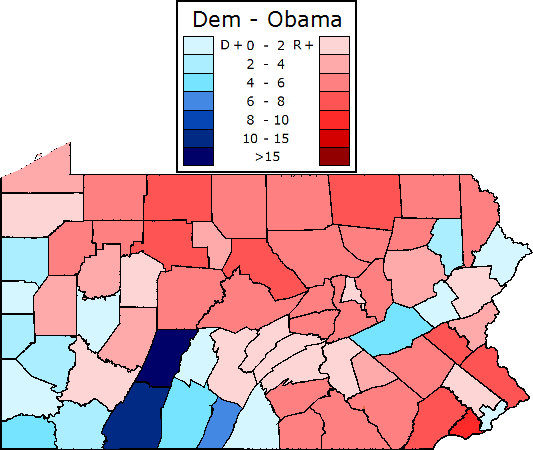 Despite the state being heavily gerrymandered to give Republicans a 13-5 advantage, Democrats actually won the state's house popular vote thanks to huge margins in places like Philadelphia, making it one of just 4 states where there was a popular vote/delegation split. Dems ran far ahead of Obama in western Pennsylvania and even counties such as Schuylkill in the east. They ran significantly behind Obama in the Philadelphia suburbs as well as northern Pennsylvania, with all of these areas demonstrating the impact of incumbency as well as the voters' propensity towards ticket splitting.
Rhode Island
Like Massachusetts, Rhode Island is very heavily Democratic with Dems (and liberal indie Lincoln Chafee) holding every statewide office. Dems best area is unsurprisingly very urban and minority heavy Providence while Republicans do better in the more rural areas of the state while areas such as Warwick and Cranston swingy in close elections.
It shouldn't come as a shock that Obama performs better than average in Providence proper, but he also does a bit better in the south of the state. He underperforms and in some places significantly in the north of the state outside of Providence itself.
Looking at the house map we can get a very clear picture of which towns belong to either of the state's two districts with 1st district incumbent David Cicilinne underperforming Obama significantly in every part of his district. Dems still won the vast majority of the towns in the state and there was only one that gave a Republican over 60% of the vote.
Vermont
Town-level charts here
The last state we come to is Vermont, which despite being one of the most rural states in the nation is one of the most Democratic and probably the most liberal in overall ideology. Long a Republican bastion, Republicans generally do poorly in statewide elections and only hold one statewide office. They do best in the north and center of the state while Democrats do best in the south and cities in the west like Burlington.
Similar to New Hampshire, Obama overperforms in the north of the state and does about as well in the states cities. He underperforms more in the south of the state thanks to it not sharing a media market with New Hampshire.
Dem incumbent Peter Welch ran significantly ahead of Obama and won all but one town in the state. He did best in cities like Burlington as well as the center and southeast of the state. He outran Obama the most in the far north and central-western part of the state, though he generally outran Obama everywhere.
This concludes part three of the series, I hope you enjoyed reading and next week will see us look at the South.