On Daily Kos Elections, many commentators throughout the summer and fall assumed Tim Kaine would outperform Barack Obama's total in Virginia. This turned out to be true. However, commentators also said they couldn't imagine any Obama-Allen voters, and speculated who those voters could be. I decided to find out for myself, and so I made a map. The bluer the county, the more the Democrat outperformed Obama. The redder, the more they underperformed. In this first installation of the series, I have three maps: Virginia, Montana, and Ohio.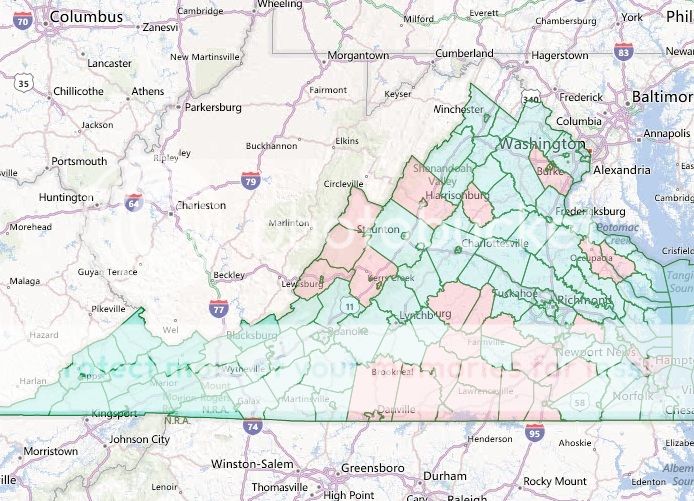 Unsurprisingly, Tim Kaine's strongest overperformance came in Virginia's ancestrally Democratic Southwest, the most Appalachian part of the state, more similar to Eastern Kentucky than the rest of the state. A cluster of ten counties in the Southwest and one county near that cluster all had Kaine outperform Obama by at least 3%, a not-insubstantial amount of ticket splitting in a race where neither candidate deviated much from their party. Of course, a bit of that may be racism; some of those voters may be Democrats who would have voted for Hillary Clinton, John Kerry, or other White Democrats, but not Barack Obama.
In much of the rest of the state, Kaine ran a point or two ahead of Obama. This was fairly uniform; it included many rural counties, more urban places like Norfolk or Alexandria, as well as suburban areas like Fairfax and Loudoun Counties as well as the Richmond suburbs. Unlike some races, this race didn't really have the Republican candidate overperforming in the ancestrally Republican suburbs. Part of this may be Allen's past; his offensive statements regarding African-Americans ("what position did you play?") and South Asians ("macaca") are most likely to turn off suburban voters who like voting for moderate or mainstream Republicans, but not those they see as extreme. Even Loudoun County, an area I'd expect to have a decent number of voters who split their ticket, had Obama run behind Kaine. A second explanation for why this didn't occur is that Romney was a great fit for moderate suburbanites. Allen may have run ahead of George Bush or Rick Santorum, but enough swingy, wealthy moderates went for Romney that he couldn't outrun him.
Finally, and most interestingly to me, there were some areas where Allen did outrun Romney. I'm going to break these down into three areas.
1) The Southside: Much of Southern Virginia and some of the Hampton Roads area had Allen outrun Romney. There are multiple potential explanation for this. Firstly, there is the possibility that Allen had particular appeal to Black voters. I'm discounting this theory for obvious reasons. Secondly, it's possible some Black Republicans voted for Obama out of racial solidarity, but voted Republican for other offices. In my opinion, this is unlikely because of Allen's history, but could have occurred a bit. Most likely to me is the idea that some low-info, mostly Black voters skipped the Senate race but voted for Obama, or turned out with the intention of only voting for Obama, leading to Allen outperforming Romney.
2) Appalachia (Bob Goodlatte's district): Six Appalachian counties had Allen do better than Romney. In my opinion, this is the most likely place for there to actually be Obama-Allen voters. I don't really know why that would be, though. But the area is very White, so it's not due to minority dropoff.
3) Prince William County: This county has a lot of minorities but is ancestrally Republican. Therefore, either of the two theories could apply. However, the fact that Loudoun County, which is similarly ancestrally red, had Kaine overperform Obama leads to my guess that it's due to low-info minorities skipping the Senate race here as well.
Now on to Montana, where Jon Tester beat Denny Rehberg in a race I expected him to lose.
Here, as we can see, Tester outran Obama everywhere, no surprise considering his moderation and the fact that he won in a red state. There don't appear to be strong patterns here, but I can identify a couple.
1) Native Americans: Tester didn't outrun Obama as well in counties containing reservations. I'm not sure why this is.
2) Ranchers: Tester, from the Central, ranching part of the state, did better in the eastern two-thirds of the state than the mountainous western part. He likely had less appeal to mountain-dwellers.
3) Home-County Strength: Tester's home of Chouteau County is the dark-blue county that is furthest north, near the center of the state. He did well there. Rehberg didn't do that great in his home county, Yellowstone (Billings), the county where the C in "Crow" is located on the map.
Finally, Ohio.

Sherrod Brown is known as a blue-collar Democrat, closely linked to unions and manufacturing. Therefore, he should do well in auto-manufacturing areas and relatively poorly in the suburbs, right? Well, that didn't happen. Here's what did.
1) Josh Mandel's strength: Mandel did pretty well in the Northwest fourth of the state. That area has been Republican for over a century. What surprises me, however, are the five counties he won in the Eastern half. That area has historically been purple at worst for Democrats, yet he outran Sherrod Brown! I don't know why this is, and I can think of no reason at all that Obama would be uniquely appealing there, but that's what happened. Like George Allen, Josh Mandel didn't do better than average in suburban, ancestrally Republican areas like Hamilton County or Franklin/Delaware Counties.
2) The Exurban Counties: Sherrod Brown did very well in Warren, Medina, and Geauga counties, three exurban places where Republicans always win. Perhaps Romney was very appealing there? Otherwise I have no explanation.
3) Home Base: Sherrod Brown grew up in Mansfield. Apparently he's still popular there.
4) Autos: I don't see any correlation between auto plants and Brown overperforming.
5) Eastern and Southern Ohio: These ancestrally Democratic areas gave Brown the overperformance we all expected.
Anyway, that's part one. Any help with potential explanations? Feedback? Leave comments!