Before reading my article, I'd highly recommend you take a look at this piece about Greenwich, Darien, Westport, Norwalk, and Fairfield. You'll learn plenty about the people and politics of those towns. http://www.dailykos.com/...
Background
Connecticut's 4th Congressional district is one of the most polarized Congressional districts in the country. Some of the wealthiest and some of the poorest Americans reside just miles apart in parts of this district that contains both towns like Greenwich, Darien, and New Canaan and cities like Bridgeport and Stamford.
The 4th district was represented by Republican Chris Shays for 11 terms between 1987 and 2009. In 2008, Shays was defeated narrowly by current 4th district Representative Jim Himes by four points while Barack Obama carried the seat with 60% of the vote. Out of the 17 towns and cities in the district, only Bridgeport, Norwalk and Stamford voted for Himes but Shays, a Bridgeport resident, only pulled 19% in his home city, dooming his reelection prospects. Himes has since settled into his seat, defeating his 2010 challenger by a fairly strong margin of six points.
In a midterm year, the 4th district likely sits around D+1.5 but it voted D+3.7 in 2012. In a district where Mitt was such a tailor made fit, how did he do compared to John McCain's 2008 performance? Find out below the fold.
Election Results in 2008 and 2012
Below is a map that shows how John McCain performed in each of the 4th district's 17 towns and cities in 2008.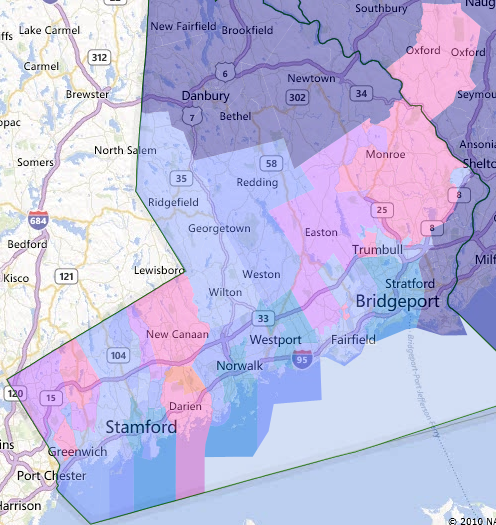 Below is a map that illustrates Mitt Romney's performance in each of the district's 17 towns and cities.
Color Key:
Navy: 65+% Obama
Sky blue: 50-53% Obama
Dodger blue: 53-58 Obama
Blue: 58-65% Obama
Salmon: 50-53% Romney
Red: 53-56% Romney
Crimson: 56-60% Romney
Reddish Brown: 60+% Romney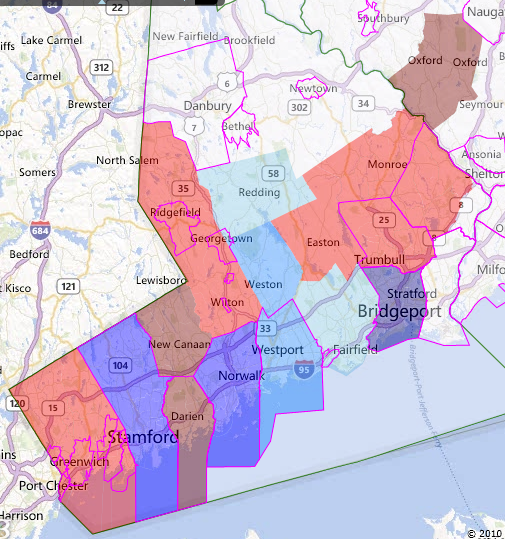 Below is a map that shows how each of the 17 towns and cities voted in comparison to their 2008 performances.

Color Key:
Light blue: 0 through 3% shift towards Obama
Salmon: 0 through 3% shift towards Romney
Red: 3 through 6% shift towards Romney
Crimson: 6 through10% shift towards Romney
Reddish Brown: 10+% shift towards Romney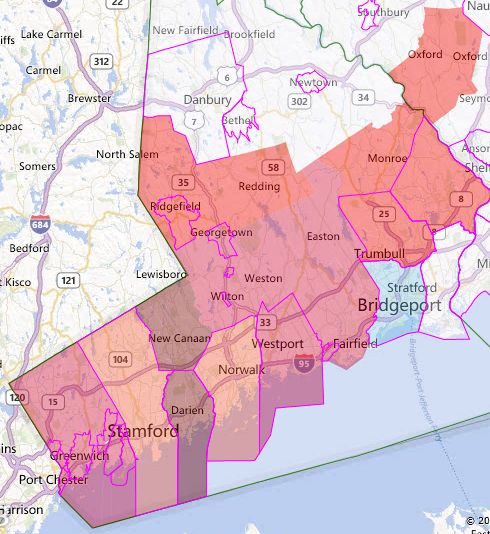 Below is the data table I created and used while writing this article. Click on the image to see the full table; DKE's page width is too narrow for it to display correctly in this article.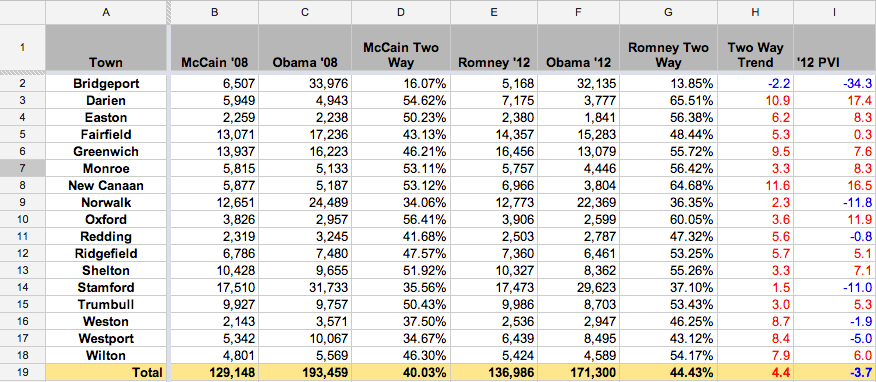 Conclusions
There isn't much to be said about CT-04, other than that it's out of reach for Republicans with well-liked Rep Jim Himes, who defeated a strong but weakly funded opponent by 20 points in 2012, holding the seat. However, the interesting takeaway from the voting trends in CT-04 is that the wealthier the town, the more it tended to swing towards Romney from its McCain performance. Darien, Greenwich, New Canaan, Fairfield, Weston, and Westport each registered in at a swing of at least 8 points towards Romney from their McCain showings. Meanwhile, demographic trends caused the district's cities to either trend Democratic or stand pat.
Mitt Romney matched or did slightly better than Bush '04 numbers in most of the towns of the district but fell through the floor compared to Bush's '04 performance. Therefore, his '04 performance was slightly more than 2 points worse than Bush's 2004 showing in the 4th district.
It's also worth noting that without Bridgeport in the district, Romney would have received 48.64% of the two-party vote in the 4th district, giving it an R+.5 PVI. Bridgeport's rapid minority trending demographic trend in the past two decades has made CT-04 lean slightly, but durably, Democratic.
Rundown of the Towns
Here's what a friend of mine with a political background from Connecticut had to say about each of the towns in the seat.
Greenwich: definition of Old money: Bush, Skakel, Regis; but now with hedgies & fashion folks like Tommy Hilfiger.

Stamford: once another heavily Italian satellite city of NYC; then a postwar Mecca of corporate HQ's; (Xerox, GE Capital); now in this century with new downtown high rises a "6th borough" of the City

Darien/New Canaan: interchangeable large lot WASP heritage top end suburbia. Republicanism still fashionable as this is corporate country; not celebrity country.

Norwalk: a denser and less affluent ( for the most part) city. Less corporate & fashionable than Stamford. Where Fairfield County finds big box stores. Historically Italian but less so over time

Westport: the cool suburb; bars, theatres, et al. Artsy, lots of Jewish residents. Once R but social issues have had their impact. Harv Weinstein lives here

Fairfield: where upper middle class folks live who can hack long train/Tpke commutes. Catholic influence--Fairfield U there.

Bridgeport: once industrial blue collar (Rowland carried city in 90) now post industrial and very minority heavy. Small ethnic enclaves left in Black Rock (129th AD) & North End (127).

Trumbull/Shelton: Where white Bridgeporters all moved. Fairly affluent, very Catholic, lots of extreme commuting except that Shelton's a small edge city now

Wilton/Ridgefield: newer and less dense New Canaans

Weston/Redding: newer and less dense Westport

Easton/Monroe: newer & less dense Trumbull

Oxford: should be in 5--really aligned with the 'Bury's