This diary was cross posted from RedRacingHorses
This is the third installment of an ongoing series on Connecticut's 5th Congressional district. For part one, see here: http://www.redracinghorses.com/...
For part two, see here: http://www.redracinghorses.com/...
Overview
The race for Connecticut's 5th Congressional district was one of the most hotly contested open seat Congressional races in the country during the 2012 election season. Republicans and Democrats both elected their strongest possible candidates in their respective primaries, Andrew Roraback (R-Goshen) and Elizabeth Esty (D-Cheshire). Millions of dollars were spent on each candidate by outside groups, and both candidates fundraised strongly. On election day, Elizabeth Esty, a one-term defeated former State Representative, defeated Andrew Roraback, a 9-term Senator from the Litchfield Hills, by a margin of 7,461 votes, or 2.62 percent. At the same time, Barack Obama defeated Mitt Romney by a margin of 8.32%. Roraback ran 2.89% ahead of Mitt Romney but needed to run 4.16% ahead and therefore narrowly lost.
What lessons and strategies can we take away from this race? Find out below the fold.
Background
Below is a picture of Andrew Roraback's Senate district. It will come in handy when analyzing election result maps later in this article.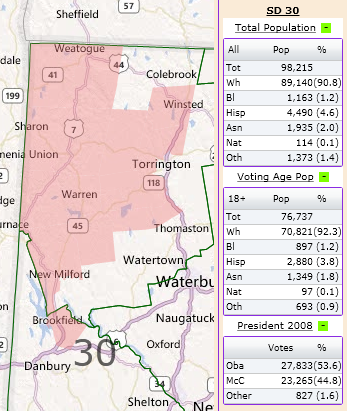 The only part of Liz Esty's old State House seat in this seat is the town of Cheshire.
Election Results
Below is a map of how each of the towns in CT-05 voted for President in 2012. Waterbury and Torrington's being split have been accounted for.
Color Key:
Navy: 65+% Obama
Sky blue: 50-52% Obama
Dodger blue: 52-57 Obama
Blue: 57-63% Obama
Salmon: 50-53% Romney
Red: 53-57% Romney
Crimson: 57-60% Romney
Reddish Brown: 60+% Romney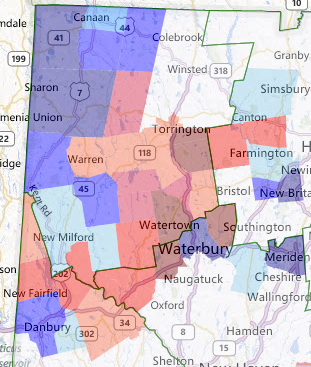 Below is a results map of Andrew Roraback and Elizabeth Esty's 2012 race by town.
Color Key:
Navy: 63+ Esty
Sky blue: 50-54% Esty
Dodger blue: 54-58 Esty
Blue (only Plainville): 58-63% Esty
Salmon: 50-53% Roraback
Red: 53-57% Roraback
Crimson: 57-60% Roraback
Reddish Brown: 60+% Roraback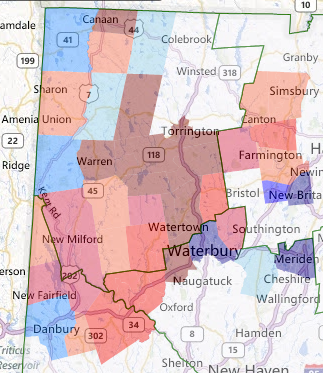 Finally, below is a map that shows Andrew Roraback's performance in comparison to Mitt Romney's performance.
Color Key:
Dodger blue: -3+
Blue: -0 through 3
Salmon: 0-5
Red: 5-10
Crimson: 10-15
Reddish Brown: 15+
Electoral Analysis
Andrew Roraback performed excellently in his old Senate district, especially in the northern portions of the Litchfield Hills. Roraback tended to run ~15 points ahead of Mitt Romney in the Northwest Corner's deep blue towns and ran an astounding 18 points ahead of Romney in his Republican hometown of Goshen. Roraback likely nearly reached the GOP ceiling in the Litchfield County porions of the 5th district.
Hartford County's slice of CT-05 worried Connecticut Republicans. Strategists were concened that Roraback would run behind Mitt Romney in the dying industrial city of New Britain, the same city that was likely the downfall of then-GOP Representative Nancy Johnson in 2006. Connecticut Republicans also worried about Roraback's appeal in the wealthy Farmington Valley, containing the affluent towns of Avon, Simsbury, and Farmington. However, considering Esty's profile as a pro-choice, fiscally moderate female seemed perfect for the Farmington Valley. Nevertheless, Roraback ran ahead of Esty in each of the district's towns. However, Roraback only ran ~2 points ahead of Romney in these towns, although it's worth noting that the Farmington Valley swung hard towards Romney from John McCain's dismal 2008 performance, with each town moving about 7 points to the right (signifying a ~5 point PVI shift to the right for the Farmington Valley). Roraback also ran 1.9 points ahead of Romney in New Britain, but New Britain shifted dramatically leftward Presidentially, seeing as Romney underperformed John McCain in New Britain by 1.6 points.
Roraback also put in a strong performance in Fairfield County, although his performance again was not as strong as it needed to be districtwide. Again, Romney ran about ~2 points ahead on average in Brookfield, Sherman, Danbury, and Bethel. Roraback registered a strong performance in New Milford, running about 7 points ahead of Mitt Romney.
While Roraback's performance wasn't on average as strong as he would have needed to win in Hartford and Fairfield Counties, his strong Litchfield County performance was more than enough to make up for this slight underperformance from his baseline. The area of the 5th district that took down Andrew Roraback was the Waterbury area of New Haven County.
In Waterbury proper, which consists of about a tenth of CT-05, Mitt Romney underperformed John McCain by 1.4 points. To make matters worse, Andrew Roraback underperformed Mitt Romney by .7 points. Esty's margin in Waterbury itself was 8,117- 656 more votes than her districtwide margin- meaning that Roraback would have been victorious without Waterbury in the district. Republicans used to be able to perform strongly in traditionally heavily Catholic, working class, and socially conservative Waterbury. Unfortunately, most of those conservative Democrats have either passed away and the ones that haven't or their now adult children have moved to surrounding towns like Wolcott, Middlebury, and Prospect. Hispanics moved in when those culturally conservative Catholics moved out, providing a tough constituency for Roraback to appeal to. Roraback knew he had to make inroads with Hispanics and even ran radio ads on Waterbury radio stations to no avail. Roraback's pro-choice position on abortion and his country club Republican perception did not play well amongst those remaining conservative Democrats in Waterbury, and he did not perform strongly there.
More alarmingly was the heavily conservative town of Wolcott, which is the residence of many of the children of those conservative Democratic Waterbury voters that used to help Waterbury swing for the right Republican. Republicans only hold a slight registration edge over Democrats in Wolcott at 97 voters, with independents being the largest group of Wolcott voters at just under 49.8%. Republicans and Democrats each register in at around 24% off Wolcott's registered population. As a comparison, a slightly less Republican performing town like Goshen, which gave 58% of its vote to Mitt Romney as compared to the 62% Wolcott gave Romney, is 36% Republican and 24% Democratic by registration. Roraback underperformed Romney by 3.3 points in Waterbury. While his two-way vote share in Wolcott was impressive without context at 58.49%, it was a steep underperformance. Wolcott's identity as the occasional landing spot for Waterbury's conservative Democrats and, more frequently, their now-adult Children shone through with Roraback's country club Republican persona not playing well there. Wolcott's weak showing for Roraback can also be partially explained by its proximity to Cheshire, Esty's hometown, where she overperformed Obama by 2.7 points. The city of Meriden, to the east of Cheshire, was one of Roraback's relative bright spots in New Haven County, seeing as he overperformed Mitt Romney there by over a point (although lost Meriden, which trended leftward presidentially, handily). The Waterbury suburb of Middlebury also was disappointing for Roraback, seeing as he underperformed Romney by .6 points there. Roraback slightly overperformed Romney by .4 points in Southbury, but this was again a disappointing underperformance.
Conclusion and 2014
Andrew Roraback being the political favorite son of Litchfield County meant that his fairly strong, but not comparatively as strong, performances in Hartford and Fairfield Counties were enough for him to win. Without the New Haven County portion of CT-05, Roraback would have won by around 2.2 percent. Taking out either Waterbury or New Britain itself would have won the district for Roraback. While Danbury and Waterbury should undisputedly be in the 5th district, there's almost no non-partisan reason for Meriden or New Britain to be in the 5th, seeing as New Britain is a natural fit for the Hartford based 1st district and Meriden should be in the New Haven County based 3rd district. Trading New Britain and Meriden for Bristol, Southington, and the 1st district's rural arm into northern Torrington and surrounding areas, as a court map would have done, would have resulted in soon-to-be forer State Senator Andrew Roraback in being Congressman-elect Andrew Roraback. Simply put, the GOP lost CT-05 on the mapping table.
As for 2014, the GOP is in a decent position to win CT-05. While Elizabeth Esty will have some strength thanks to incumbency, CT-05's Democratic strength is largely based in the cities of the district, which turn out abysmally in midterms. Had urban turnout not have been abnormally high for even a Presidential election year, Roraback likely would have won the 2012 version of CT-05. With depressed urban turnout in 2014, a potential "six year itch" hindering Democratic performance, and a governor deeply unpopular in Northwest Connecticut (and suburban Connecticut in general) on top of the ballot, the GOP could win the 5th district in 2014 with a well funded challenger. Andrew Roraback has hinted that he will run again, and if he can run nearly as strongly as he did in Litchfield County in 2014, which will be a higher percentage of the CT-05 electorate in a midterm year, he can potentially defeat Elizabeth Esty. The other option for the GOP would be running a Wolcott, Waterbury, Cheshire, or Middlebury Republican who could neutralize Esty's home field advantage in the New Haven County portion of the district and who would be a better fit for that part of the district, but that nominee would also need to focus heavily on performing well in the Litchfield Hills. The GOP needs a nominee who can unite all of the winnable factions of the CT-05 electorate, and Andrew Roraback could possibly do that in 2014 when urban turnout is depressed and he can spend more time as the presumptive nominee campaigning in areas he underperformed in.