It's Hypothetical Redistricting Time.
In Maryland, the Democratic legislature draws the Congressional districts. The map they came up with this year changed our delegation from 6-2 to 7-1, but .... well, I'm sure everyone has seen the map. But if you haven't, just LOOK at it.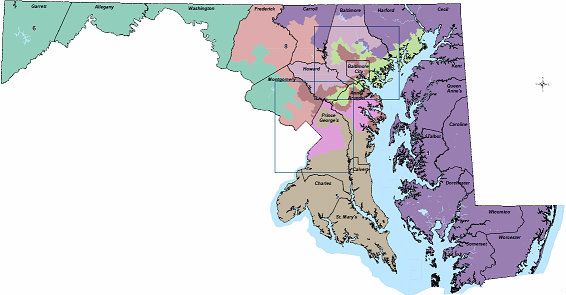 The Baltimore City area especially looks like an onion: deep inside is District 7, move a little north and you're in a strip District 3, a little more north is a sliver of District 2, a little more is District 1, and far enough north you're somehow back in District 7. I was holding my breath on Question 5 in November, which put the redistricting up for popular vote. It passed, meaning the ridiculous map stands, but I was curious as to whether we could still have a 7-1 map without it being quite so ridiculous. So I threw incumbent protection and racial districting out the window in favor of contiguity and compactness. As it is, I ended up with 7-1 and three VRE districts in what is at least a cleaner map. Let me know what you think!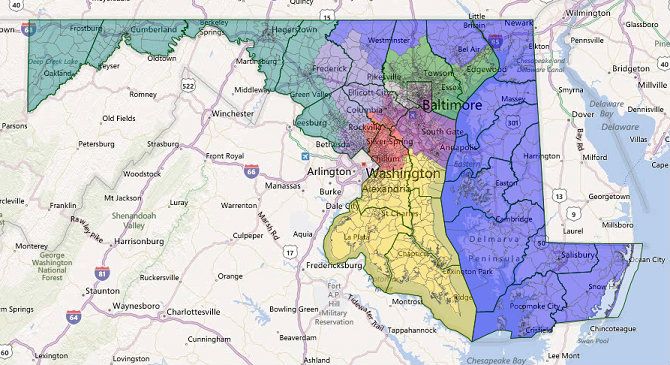 MD-01: Andy Harris (R-Cockeysville)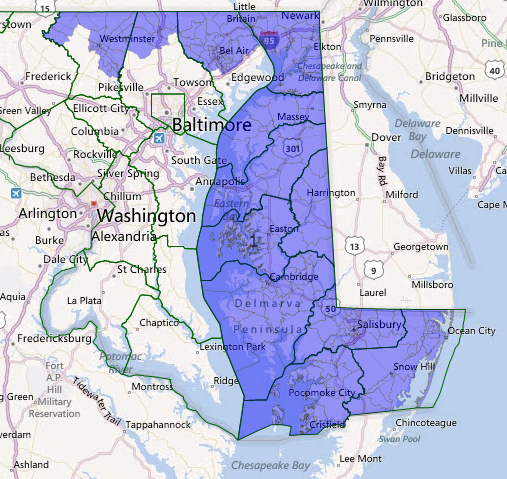 Obama 39 - McCain 60
It's unfortunate that given its geography, the Eastern Shore has to become part of the Republican vote sink. Most GOP votes here come from northern Harford, Baltimore, and Carroll counties west of the Bay. Rep. Harris himself is from Cockeysville, but... Cockeysville is not in the 1st district in my map. Suck it, Harris. Hopefully someone who is actually from the Shore will win this district.
MD-02: Dutch Ruppersberger (D-Cockeysville)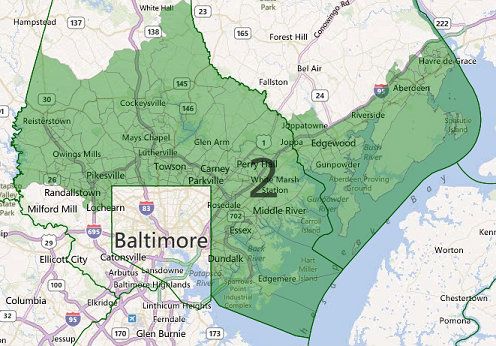 Obama 54 - McCain 44
This district is much nicer because it doesn't have ribbons from other districts running through it. It includes much of the current 2nd district, but adds Pikesville, Towson, and a good amount of central and western Baltimore County. Why can't it look this nice in real life? Because my 2nd District includes the residences of THREE sitting Representatives - Harris, Dutch, and John Sarbanes.
MD-03: John Sarbanes (D-Towson)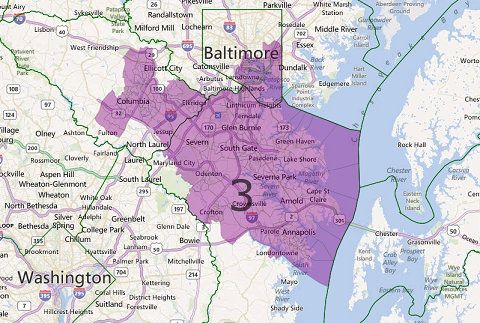 Obama 54 - McCain 45
Currently, this is quite possibly the most ridiculous district in the nation. It's a ribbon that starts at Annapolis, grabs a thin strip of northern Anne Arundel County, takes a chunk of Montgomery County before bouncing back east through Howard County, grabs a strip in central Baltimore City, then turning west again to Pikesville in Baltimore County. My 3rd District doesn't play those games, and takes northern Anne Arundel County, the majority-white southern area of Baltimore City, and Columbia in Howard County. This could be a good seat for either Howard County Executive Ken Ulman or Anne Arundel County Councilman Jamie Benoit.
John Sarbanes is an excellent public servant though, and a champion of campaign finance reform, so in my fantasy world he moves to the US Senate.
MD-04: Donna Edwards (D-Fort Washington)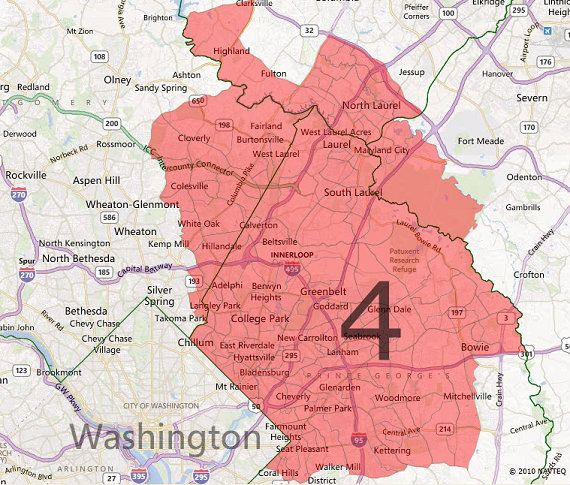 Obama 83 - McCain 16
48% Black, 25% White, 18% Hispanic, 7% Asian
This is another odd-shaped district right now, which literally includes Rep. Edwards' home in Prince George's County, a Republican chunk of Anne Arundel County, and a thin strip to connect the two. This district I drew is very compact in northern PG/eastern Montgomery counties, and the spillover of Laurel into Howard and Anne Arundel. I can think of a lot of people who could represent this district but my first choice would be Delegate Joseline Peña-Melnyk, who currently represents the Laurel/College Park area.
Donna Edwards is a strong progressive leader, and she gets my other Senate seat. Seriously though, she should run for Senate in 2016.
MD-05: Steny Hoyer (D-Mechanicsville)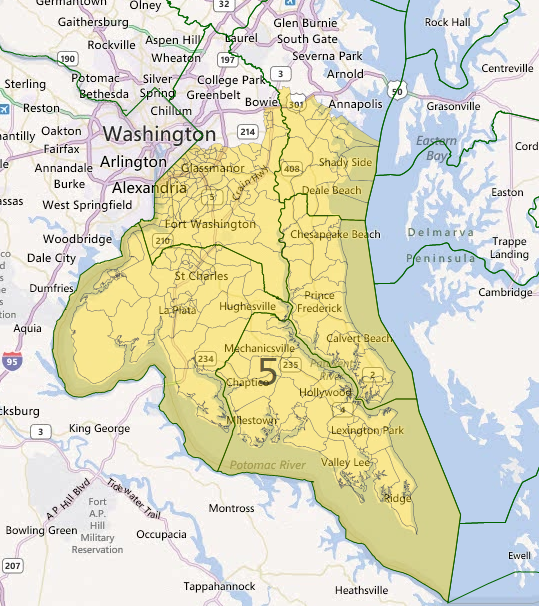 Obama 70 - McCain 29
48% Black, 44% White
The southern MD district becomes a lot more clean when you don't have to maneuver the entire district around Donna Edwards' house. Even though St. Mary's County has been trending Republican since 2008, Charles County is trending Democratic, and rapidly so. This district will remain in Democratic hands even without Rep. Hoyer.
MD-06: John Delaney (D-Potomac)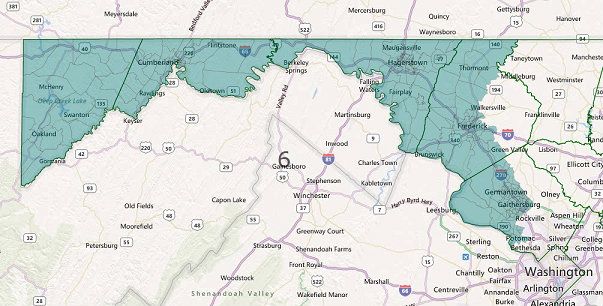 Obama 54 - McCain 45
This district was brilliantly drawn by the state. It's actually more compact than the previous 6th district, which stretched almost all the way across the northern border of the state. Now it's truly a "western Maryland" district and includes just enough of Montgomery County to be majority Democratic. Delaney's residence remains in the district in my map; in fact I changed the 6th very little.
MD-07: Elijah Cummings (D-Baltimore)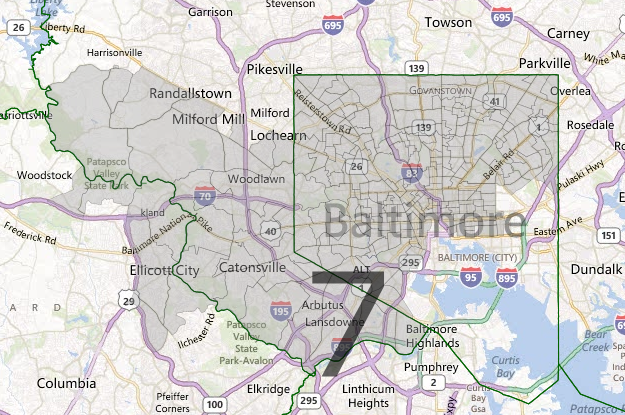 Obama 84 - McCain 15
59% Black, 32% White
The new 7th includes the black-majority precincts of Baltimore City, as well as the predominately black western suburbs such as Woodlawn.
MD-08: Chris Van Hollen (D-Kensington)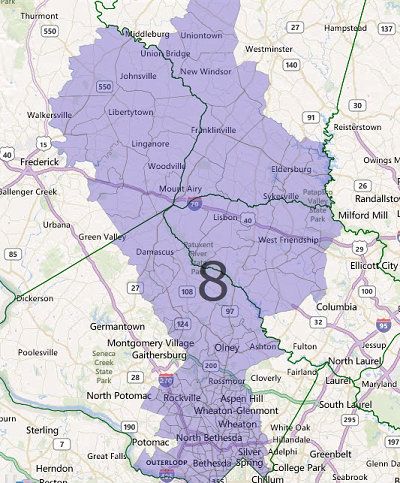 Obama 64 - McCain 35
Rep. Van Hollen keeps his district, which dispenses with its current "ribbon" shape in favor of a thicker chunk in western MD.
Montgomery County: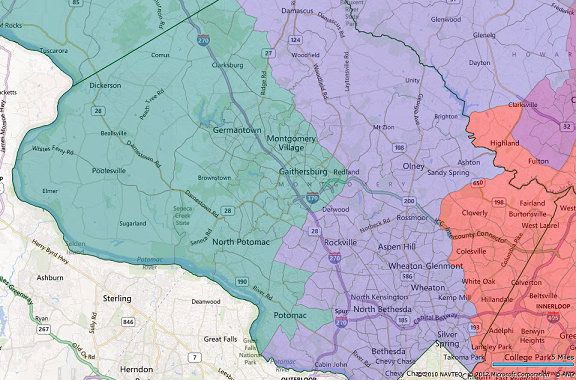 Baltimore City: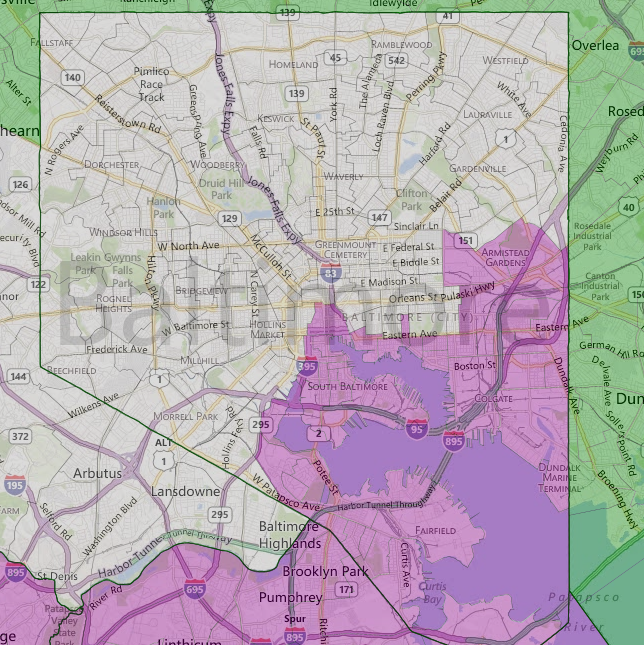 In any case it was fun drawing this map. If anyone has any suggestions, let me know! (This is my first redistricting.)