After finishing our first election after redistricting, it's time to start thinking about how we're going to draw congressional lines after the 2020 census! Colorado is expected to grow by over 900k and gain an 8th congressional district.
My goal was to make the new 8th winnable while also keeping the 3rd, 6th and 7th competitive (and improve them if possible). I also wanted to keep the lines reasonable since this is Colorado and we don't do well with over reach. Because splitting Denver County is a no-no (sad face) the best way to achieve all of this was unpacking the 2nd as Democrats tried to do early on during this round of redistricting.
Population estimates are available at the CO Dept. of Local Affairs. I may have been a little off at the city level, but won't make a big difference in the performance.
Statewide: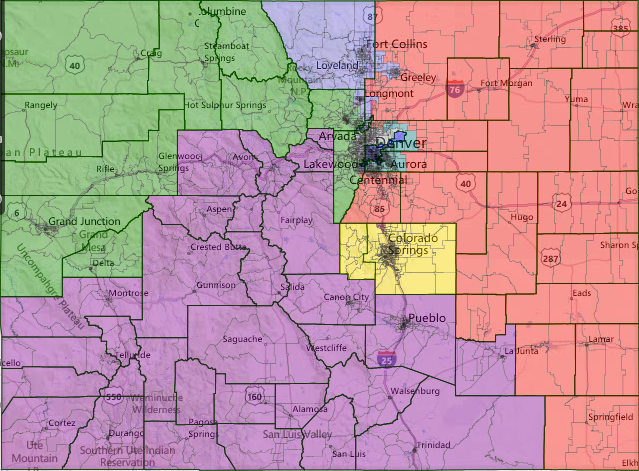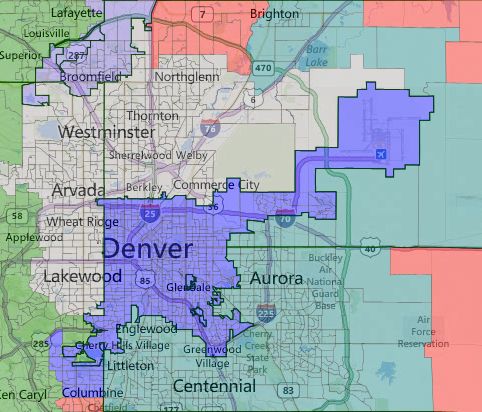 CD1 - DeGette (D) - This Denver-based district shrinks thanks to the additional seat so Englewood, Cherry Hills Village and Sheridan were dropped and only a portion of Littleton/Ken Caryl in Jeffco was left in the 1st. That area was split up 3 ways into the 1st, 2nd and 4th to dilute the influence of Jeffco's most Republican area. This district actually gets bluer going from 70% Obama (08) under the current lines to 73% and 66% Dem Performance to 69%. Safe D.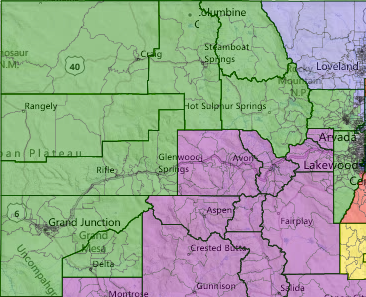 CD2 - Polis (D) - Jared Polis will not be happy with this district, but as one of the wealthiest members of Congress I'm trusting in his ability to handle whatever should come along. To unpack this district, the ski counties of Eagle and Summit are dropped along with Clear Creek, Gilpin and Broomfield. In their place the 2nd is stretched west into through Jackson, Routt, Moffat, Rio Blanco, Garfield, Mesa and Delta and then south into the dreaded Ken Caryl/Littleton area. The addition of so much Republican turf brings this district down from 61% Obama to 56% and Dem performance from 56% to 52%. The Golden/Applewood area and some of Lakewood are also added to the 2nd. Boulder County keeps this district leaning Democratic even if Polis were to retire. Lean D.
CD3 - Tipton (R) - I love how this one turned out. Scott Tipton is pretty screwed under this map with his extreme right-wingery. Democrats have been competitive in more the conservative version of this district and with the loss of the production counties and the addition of the ski towns and the western half of the old 5th, this district goes from 48% Obama to 53% Obama!* The Dem performance goes from 45% to 49%! And all of this without splitting a single county. This district is very much a tossup if not slightly Dem-leaning now. Tossup.
*If you're curious, Obama won the new 3rd this year 51%-47%
CD4 - Gardner (R) - This district became even more of a Republican vote sink. Along with adding the rest of Douglas County and taking out Greeley and Erire in Weld, the blood red northern towns in El Paso County were added. To shore up the 6th, 7th and new 8th, the exurbs in Adams County were also added. This district drops from 42% Obama to 38% and sees it's Dem performance drop another 3 points to 33%. Safe R.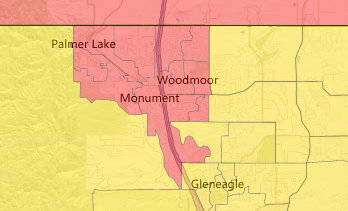 CD5 - Lamborn (R) - The population growth projected in El Paso County doesn't leave us with many options. There is no way folks in Pueblo would accept any of El Paso County being in the same district, so instead it was contained. Teller County was kept whole whole and the excess El Paso County towns to the north went to the 4th. Obama and Dem performance are almost totally unchanged at 40% and 34% respectfully. Safe R.
CD6 - Coffman (R) - A major disappointment this year, Coffman actually lost the Arapahoe portion of the current 6th, but killed Miklosi 2-1 in Douglas County. So to solve this problem, Douglas County was taken out entirely and Englewood, Sheridan and Cherry Hills Village, were added. This district was also able to shrink so the Todd Creek area in Adams was given to the 4th, leaving Brighton. The result is a 2% improvement, bringing Obama performance to 56% and Dem performance to 49%. Miklosi may have actually pulled it off in this district. Tossup.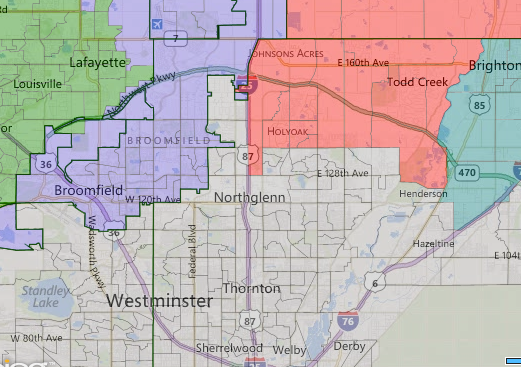 CD7 - Perlmutter (D) - I tried not to make the 7th too red while carving out these other competitive districts. Fortunately, with the district allowed to shrink some, I was mostly able to keep the Adams County portion the same while letting Golden/Applewood and south-west Lakewood go to the 2nd. The result was actually a slight improvement with Obama percentage going from 57% to 58% and Dem performance also jumping a point to 52%. The one drawback is Perlmutter's home is drawn out, but I don't expect him to be running for re-election in 2022. (Both folks I expect to run when he retires are still in the district). Lean D.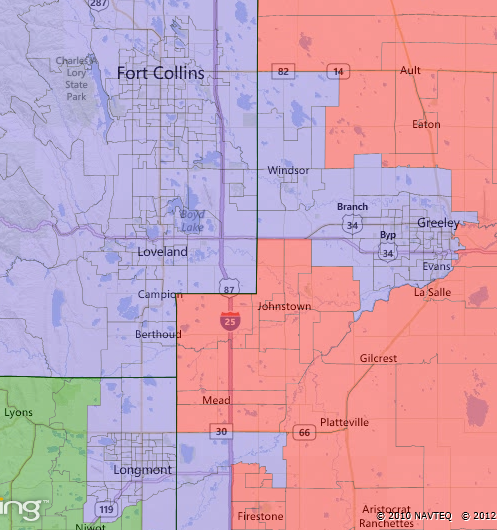 CD8 - NEW - With this map Fort Collins finally gets a district centered around it along with Greeley and Longmont. This area is definitely a community of interest and with the addition of Erie and Broomfield, definitely winnable by Democrats. The district stays away from the worst parts of Weld, picking up Greeley and Windsor and going into Weld again only to grab the Erie/Dacono area. The result is a 54% Obama district and 47% Dem performance. This is actually almost exactly the same performance as the current 6th. We have a much stronger bench in this area than the Republicans who have found every loon in a 30 mile radius to run for office here. Tossup.
Overall this leaves 3 Solid or Lean D districts, 3 tossups and 2 Republican seats. In a good year Democrats will achieve a 6-2 advantage and even in a year like 2010 we should only fall to 4-4 or 3-5 at the worst. This time we just have to keep the trifecta going into 2021!