Yesterday was a huge day for LGBT rights, as the President of the United States came out for same-sex marriage. But the previous night was also important, as North Carolina easily passed Amendment 1, a sweeping ban of same-sex marriage and civil unions.
North Carolina, and its changing demographics, have been much-discussed ever since Obama narrowly won the state. Charlotte has became one of the largest cities in the country, and these dynamics are surely part of why Charlotte was named the site of the 2012 Democratic National Convention. I think it's worth examining the Amendment's performance in Charlotte and in Charlotte's Mecklenburg County, where Amendment 1 lost by about 8 points. (And we'll even have a surprise for North Carolina House Speaker Thom Tillis at the end, and a less welcome surprise for openly-gay Council Member LaWana Mayfield before that.)
I'm using the wonderful Mecklenburg County Board of Elections Unofficial Results map and similar maps throughout this diary. Hopefully, it's all right if I reproduce the images, and yes, that means these are unofficial results.
Amendment 1 had the following support pattern in Mecklenburg County, with the lighter color indicating a precinct opposing the Amendment, and the darker color indicating a precinct supporting it.
This is quite a bit different than the support pattern, for example, that Barack Obama enjoyed against John McCain: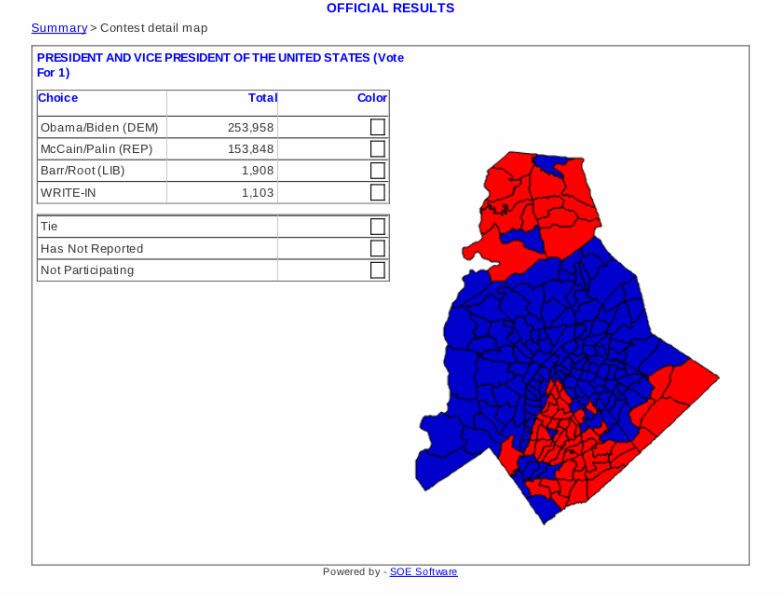 Or than the support pattern (in Charlotte proper) that now-Mayor Anthony Foxx enjoyed in his narrow victory over John Lassiter: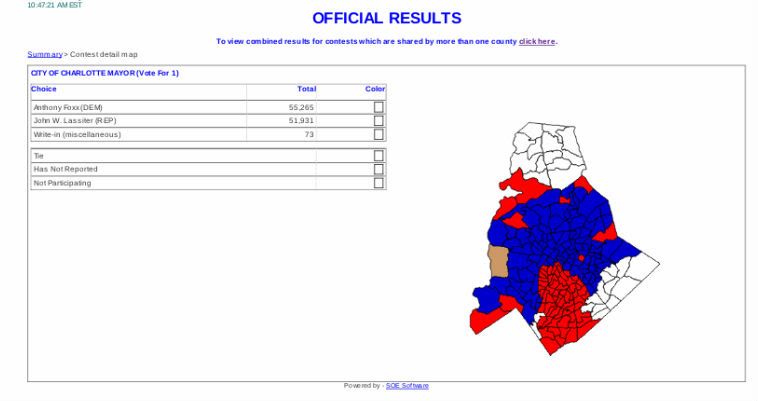 Or the support pattern that now-Governor Beverly Perdue enjoyed in her narrow victory over Pat McCrory:
This is what led psychicpanda to say that it's an "almost inverted" map.
There's some visual sense to this--the South going for McCain and against Amendment 1, the West going for Obama and for Amendment 1--but it's simply not the case.
Here is a chart of Obama's vote share vs. the vote share received by "Yes on 1", by precincts (including all of Mecklenburg County, not just Charlotte):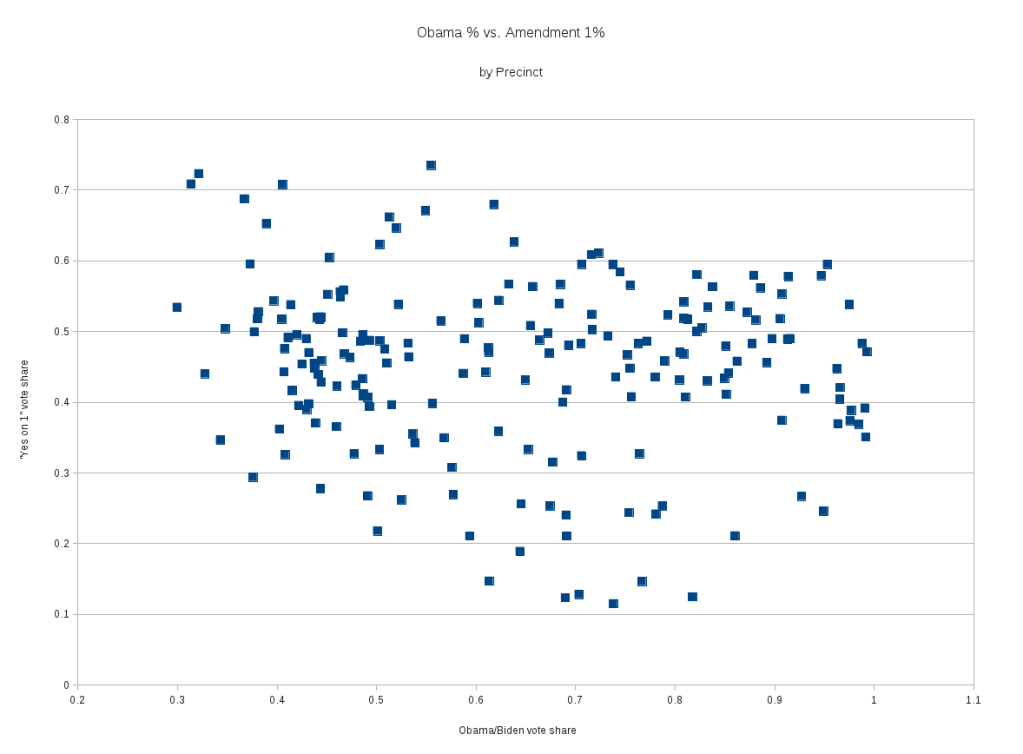 As you can see, they're basically uncorrelated, but if anything there's a negative relationship overall.
More precisely:
-38 Precincts were McCain/"No".
-90 Precincts were Obama/"No".
-1 Precinct was Obama/"Tied".
-22 Precincts were McCain/"Yes".
-44 Precincts were Obama/"Yes".
So, while the McCain/No and Obama/Yes Precincts might get all the attention, there were only 82 such "counter-intuitive" precincts, to 113 "intuitive" ones.
This should give you some idea of the complexity involved:
What were the Amendment's best precincts? The 14 best precincts were: 224, 221, 236, 219, 220, 79, 235, 200, 218, 234, 89, 216, 80, 94, which are also almost all of the precincts where it received at least 60% of the vote (omitting only Precinct 225).
Precincts 221, 236, 219, 220, 235, 218, 234, 216, 94 make up a contiguous block on the Southeastern corner of Mecklenburg County--nearly all of it outside of the City of Charlotte proper. John McCain got 54.8% of the vote here. I don't think this area is exactly dominated by working-class African Americans.
Precincts 224, 79, 200, 89, 80 also form a contiguous block on the outskirts of Charlotte--this time, on the west side. But John McCain only got 36.4% of the vote here.
Still, there are more precincts in the McCain-friendly "Yes on 1 block" than in the Obama-friendly "Yes on 1" block.
Where were Amendment 1's best precincts?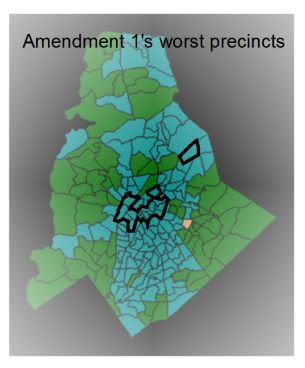 Not too surprising: Downtown and, I think, University City up in the Northeast. Obama won all of these precincts, mostly quite heavily (I didn't bother to add it up). I do think it's interesting that some of Amendment 1's very worst precincts run right up to precincts where Amendment 1 passed.
Charlotte City Council Districts:
I compared the Amendment 1 results to the current City Council Districts, using the 2011 district elections to try to make sure I got the precincts assigned correctly. (I originally used the 2009 district elections, and missed that the districts have changed very slightly between the two elections! That was fun.)
Note: for no reason anyone will ever be able to explain to me, the City Council districts have split precincts--not between each other, but between the city and the county!--so these results might be off at the margins.
That said, Amendment 1 seems to have failed in 6 of the 7 districts. Below, I've listed the districts along with the percentage of the vote received by Amendment 1, in ascending order.
District 1 27.08%
District 6 40.00%
District 4 46.15%
District 2 47.71%
District 7 47.86%
District 5 49.12%
District 3 51.88%
The Amendment did worst in
District 1
, represented by Democrat
Patsy Kinsey
. The city
describes
it as "physically located in the southeastern part of the city near the central business district. It includes neighborhoods such as Dilworth, Plaza-Midwood, Grier Heights, Freedom Park, Myers Park, Eastover, Elizabeth, Chantilly and Windsor Park." As you can see, Amendment 1 failed in all but three precincts here.
It also easily lost District 6, represented by Republican Andy Dulin. In fact, only one precinct backed the Amendment. This district is immediately south of District 1.
Next comes four more marginal districts.
The Amendment lost fairly easily in District 4, represented by Democrat Michael Barnes. The City describes this district as "physically located in the northeastern part of the city from The Plaza to the City Limits. I-85 North runs through the area." Barnes is African-American, and his district also seems to have UNC-Charlotte and the University Research Park (see the above link).
The Amendment also only lost narrowly in District 2, represented by Democrat James Mitchell. The city describes this district as "physically located in the northern area of the city and includes the Central Business District and neighborhoods such as Third and Fourth Wards, Wesley Heights and many others." Mitchell is African-American.
The Amendment lost only narrowly in District 7, represented by Republican Warren Cooksey, although only four precincts backed it. The city describes this district as "physically located in the southeastern area of the city, along Highway 51."
The Amendment also lost only narrowly in District 5, represented by Democrat John Autry, with 12 precincts backing it (and one tie). The city describes this district as "physically located in the eastern part of the city, including areas near portions of North Sharon Amity, Albemarle Road, Rama Road and Idlewild Road."
But, assuming the split precincts don't change anything, the Amendment narrowly won in our last District, District 3, represented by Democrat LaWana Mayfield. The city describes this district as "physically located in the western area of the City."
Why is this so remarkable? Because Mayfield is Charlotte's first openly gay or lesbian elected official, who of course opposed Amendment 1, even specifically hoping for her District to join her in opposition:

That's right--the only Council district to (apparently) back Amendment 1 is also the only district to have ever elected an LGBT city official! Politics is complicated.
Neighborhoods:
Relying on Walkscore's neighborhood map of Charlotte, as well as the city's own 2010 "Quality of Life study map", we can try to figure out which neighborhoods had which support patterns.
Several people, such as sacman701, have suggested that class might explain the Amendment's performance more than partisanship. I'm not sure it's that simple.
While the southern and Republican Charlotte areas that opposed the Amendment are apparently fairly wealthy (they're mostly classified as "stable" under the Quality of Life map), so are the neighborhoods in the city's Southwest corner/appendage, like Pleasant Hill Road and Steele Creek, which backed the Amendment. I suspect that R+10 block with many of the Amendment's best Mecklenburg precincts isn't exactly the most struggling or ill-educated part of the county.
On the other hand, the "challenged" neighborhoods of Jackson Homes and Boulevard Homes seem to be in Precinct 39, and the "challenged" neighborhoods of Westerly Hills and Ashley Park seem to be in Precincts 53 and 23--all Amendment 1-backing precincts in District 3, just off the outlined block of Amendment 1's best Precincts.
But, for a counter-example, the "challenged" neighborhood of Hidden Valley is apparently split between Precincts 42 and 82 in District 4, which both opposed the Amendment--although nearby Precincts backed it in what seem to be "transitioning" neighborhoods.
Conclusion:
Looks can be deceiving. It'd be easy to look at a black-and-white (well, green-and-green) precinct map and think "oh, rich white people backed Amendment 1, and poor black people supported it". But I think that'd be wrong, or at least incomplete. Sure, Amendment 1 did badly downtown, in the usually-Republican southern area, and in the UNC-Charlotte area, and it did well in some "challenged" neighborhood. But it also did well in some even-more-outlying Republican areas.
The big picture, of course, is that Mecklenburg County opposed Amendment 1 by a fairly wide margin, especially compared to the state of North Carolina. Despite the appearance of the map, the Amendment did pretty badly everywhere in Charlotte proper, barely passing a single City Council district.
In fact, by my calculations from his district map and precinct list, the Amendment even failed in the precincts of North Carolina House Speaker Thom Tillis' own district, which is entirely contained in Mecklenburg County! It seems to have gotten only 48% of the vote in those precincts.
Some of them are split, so it's hard or impossible to know exactly how the Amendment did, but even so, I think that's pretty remarkable. No wonder he's been saying it'll be repealed despite his support.
1:25 PM PT: In comments, WereBear Walker argues that it is, in fact, a "class thing". In researching a response, I realized the American Factfinder allows for maps, so here is Mecklenburg County by Median Household Income according to the ACS' 2006-2010 estimates: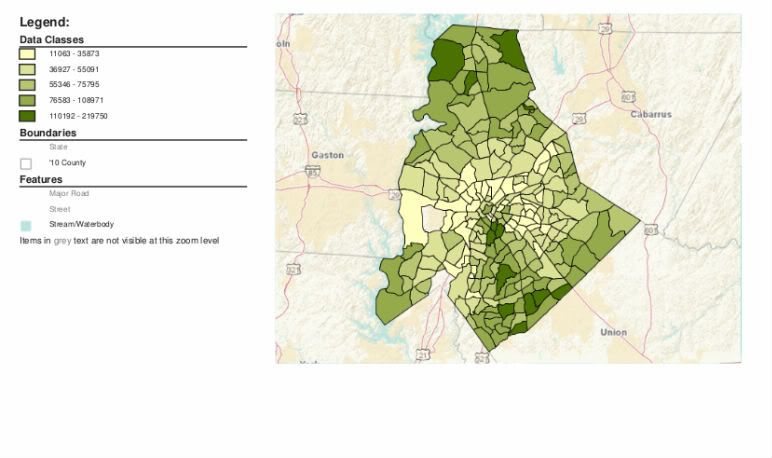 1:31 PM PT: Frankly, I think that the income map resembles the maps with a standard partisan split more than it resembles the Amendment 1 pattern. In particular, it looks extremely close to Perdue/McCory, although I can't compute that.